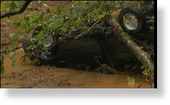 The death toll in Southeast flooding has reached seven after rescuers found the body of a 15-year-old boy in northwest Georgia following days of heavy rain that turned docile creeks into surging rivers.
The teen's body was found in the Chattooga River on Tuesday morning.
In Dawson County, the sheriff said they are searching for the body of a missing college student who is believed drowned. The sheriff said a group of friends were playing in the water Monday night at the Gold Creek Golf Club in a small pond. A male did not come out of the water.
The Hall County dive team is responding to Dawson County to assist. Officials said they are classifying it as a recovery effort.
Some rain is expected Tuesday -- although not as much as Monday. "There will be areas of heavy rain but the trend is for less rain today than in the past week. Most areas can expect a 1/2 inch or less today, but there could be isolated heavier amounts up to an inch," said Channel 2 meteorologist Karen Minton.
News Chopper 2 was able to get in the air during a break in the storms Monday afternoon and aerial shots showed schools, football fields, even entire neighborhoods submerged by the deluge, sending some unlucky residents scurrying for higher ground.
"It's a mess all over," said Lisa Janak of the Georgia Emergency Management Agency.
One of the dead from Monday was a toddler ripped from his mother's arms as their mobile home was swept into a creek.
Rising water pushed the child's mobile home into Snake Creek at Horsley Drive, according to Carroll County fire department officials. Channel 2 Action News reporter Lori Geary was on the scene and said there was nothing left of the mobile home.
Rescuers pulled two adults and one child from the rain-swollen creek, but were unable to find a 2-year-old boy. Officials said the parents and a 1-year-old child were taken to the hospital to be treated for hypothermia. The 2-year-old boy was found dead just after 1:30 p.m.
The fire chief in Carroll County said usually Snake Creek is only 2 feet deep but Monday it was 20 feet deep.
Officials in Douglas County reported that two men were killed in separate incidents.
One man was killed when his vehicle was swept off North Helton Road by floodwaters. His body was found downstream from the road in a creek. The body of a second man was found along Banks Mill Road. Family members identified him as Kevin Hodges, 29.
Two women also were found dead in Douglas County. A woman driver was killed when she tried to drive through standing water in Gwinnett County and her vehicle was swept away, according to police.
"In my 22 years in the fire department here in Gwinnett, we have not experienced flooding to this degree," said Capt. Thomas Rutledge of the Gwinnett County Fire and Emergency Services.
Shelters Opened
The Red Cross opened a shelter at the Cobb Civic Center on 548 S. Marietta Pkwy. They are working to open other shelters across the metro area, officials said. The Paulding County sheriff said they have opened a shelter at a Senior Citizens Center which is located across the street from the Paulding County 911 Center on 25 Industrial Way N. in Dallas.
Roads Closed
Rising floodwaters shut down three interstates in metro Atlanta for the Tuesday morning rush hour.
I-285 West in Cobb County was closed from I-75 to the county line. I-20 in Douglas County, I-575 in Cherokee County and I-285 at the Fulton-Cobb County line were all closed in both directions. I-20 was closed at the bridge over Sweetwater Creek because of rising water.
Drivers were detoured onto Thornton Road.
Officials from the Georgia Department of Transportation said I-20 will remain closed until the water in Sweetwater Creek recedes and crews can inspect the bridge. In Cherokee County, I-575 was shut down at Highway 92 because of flooding. It reopened just after 10 a.m. Tuesday.
All lanes of I-285 were closed at the bridge over the Chattahoochee River on the westside of the Perimeter. That portion of the interstate will also remain shut down until the river recedes and the bridge can be checked.
Cobb County said almost 100 roads were closed due to flooding and downed trees. The list can be found
here
. Fire departments across metro Atlanta reported numerous calls for help from drivers stuck in high water after they tried to cross flooded roads.
Monday, in both Gwinnett and Douglas counties, entire subdivisions were cut off when roads were covered with flood water or washed out. The city of Powder Springs has closed certain roadways and some neighborhoods were voluntarily evacuated.
Schools Closed
Many of the major metro Atlanta school systems announced they would be closed Tuesday. Hundreds of students at Clarkdale Elementary in Austell were evacuated just before 1 p.m. Monday because of flooding.
Floodwaters tipped portable trailers and surrounded the elementary school in Austell as teachers and administrators frantically tried to evacuate Clarkdale Elementary.
For some kids, it was an adventure, but for others -- not so much. Teachers carried some children out of school and at least one teacher took a fall in the floodwaters. All students were evacuated safely and everyone was OK.
DeKalb County
With thousands of homes affected across Georgia by the recent storms, DeKalb County Commissioner Lee May will host an emergency meeting to hear the concerns of constituents and provide on-site assistance on Wednesday, September 23, at the Lou Walker Senior Center at 2538 Panola Road, beginning at 6 p.m. in Lithonia.
Douglas County
Douglas County issued a local state of emergency Monday due to flooding there.
Tuesday's Douglasville Municipal Court sessions have been canceled due to the weather, according to the clerk of courts. Those scheduled for Tuesday will be notified by mail of their reschedule date. A boil water order was issued for all homes and businesses in Douglas County because of broken water lines.
Power Outages
Almost 13,000 Georgia Power customers were without power across the state Monday night as efforts to restore electricity were hampered by fallen trees and unrelenting rain. More than 12,000 of those customers were located in metro Atlanta. The hardest hit counties were Douglas, Fulton and DeKalb Counties, officials said. Officials said the other outages were scattered.
Spokesman Jeff Wilson said up to 50,000 had been without power in the past 24 hours. The main problem for power company crews has been trees that were weakened by the rain and took out power lines as they fell.
Restoring power has been a tedious process as crews have to clear the trees before they can repair the power lines even as storms continue to pass through metro Atlanta. Georgia Power officials said crews came in from Alabama to help.
Showers and thunderstorms are also expected Tuesday.
State of Emergency
Gov. Sonny Perdue has issued a state of emergency for 17 Georgia counties that were affected by heavy rain and severe weather. Perdue issued the declaration Monday afternoon after viewing storm damage in Douglas and Paulding counties from the air.
The storm has battered the Southeast and is blamed for six deaths in Georgia.
Carroll, Catoosa, Chattooga, Cherokee, Clayton, Cobb, Crawford, DeKalb, Douglas, Forsyth, Fulton, Gwinnett, Newton, Paulding, Rockdale, Stephens and Walker counties are covered by the order.
The governor said he and his wife were saddened by the deaths and are focused on rescuing victims and preventing further damage.