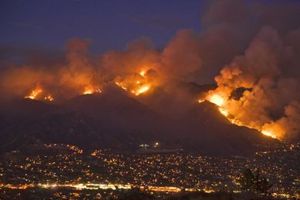 Higher humidity and a bit lower temperatures help crews battling the Station fire in the Angeles National Forest. But the northern and southeastern fronts could re-erupt, officials said.
Higher humidity and slightly lower temperatures helped firefighters inch closer to subduing the monstrous fire that has lashed about the San Gabriel Mountains for a week, but they were scrambling late Tuesday in gusty winds to keep it from overrunning Mt. Wilson.
The reprieve from extremely dry weather had fire crews feverishly setting back fires and cutting fire lines throughout the day, raising the blaze's containment to 22% in the evening, up from 5% the night before. Southwest winds largely pushed the fire deeper into the forest.
Evacuation orders were lifted in much of La Cañada Flintridge and La Crescenta. But fire officials still worried about the northern flank of the fire, from Agua Dulce to Littlerock, and said the blaze could reemerge as a threat to homes in the foothills of Sierra Madre and points east.
"It's still a very treacherous situation," said U.S. Forest Service Incident Cmdr. Mike Dietrich. "The fire has a lot of potential, and it's still a big animal."
It remained particularly precarious atop Mt. Wilson, home to the historic observatory and a complex of communications towers used by nearly 50 radio and TV stations.
By midafternoon, the fire was making its closest incursion onto the 5,710-foot peak yet, coming from two directions: half a mile to the north and three-quarters of a mile to the west.
"We expect the fire to hit the Mt. Wilson facilities between 5 p.m. today and 2 a.m. Wednesday morning," said Los Angeles County Fire Department Deputy Chief James Powers at his command post at the observatory. "Right now, we're conducting controlled burns around the perimeter in preparation for the impending fire's arrival. We're also bringing in trucks and special equipment to coat all of the structures with protective gel and foam if necessary."
The controlled burns cloaked the mountaintop with acrid smoke. Chain saws roared in all directions. Workers unloaded earthmovers from flatbed trucks.
Fire officials decided Monday morning -- the day after two firefighters were killed near Acton -- to remove crews from the mountain for safety reasons.
They re-strategized Tuesday and decided to send them back, but only if the complex was in imminent danger.
"That time is now," Powers said.
Fire was making runs on the narrow, hairpin road that connects the complex to Angeles Crest Highway, as boulders and rocks fell on the pavement from burned-out hillsides above.
Los Angeles County Fire Department Battalion Chief Steve Martin said: "We are going to burn, cut, foam and gel. And if that doesn't work, we're going to pray. This place is worth a lot, but it's not worth dying for."
Firefighters planned to retreat to the safety of the observatory parking lot or seek refuge in the concrete and steel basement of the telescope dome.
At least one group of mountain dwellers wished they had received as much attention from firefighters as the observatory was getting.
On Tuesday evening, residents in a remote enclave called Chilao were taking stock of their losses. Three of four 80-year-old homes were destroyed.
For decades, Caltrans workers have lived there alongside Angeles Crest Highway, about 10 miles northeast of Mt. Wilson, and kept the road free of debris, rocks and snow for the benefit of thousands of people who travel to the top of the Angeles National Forest year round.
"We were left on our own here," said equipment operator Robert Torres, whose home was the only residence spared. "At one point, there was a helicopter flying overhead with a bladder full of water and not dropping. What does that tell you?"
So far the fire, whose cause is under investigation, has chewed through 127,500 acres and destroyed 62 residences.
Although the number of structures razed is small compared with other recent wildfires, this one has ripped an enormous hole in one of Southern California's most treasured wild-land areas, a fact that was particularly evident along Angeles Crest Highway, which remained closed to the public.
Under skies tinged coral and gray by dense smoke, mile after mile of slope once covered with manzanita, sumac and sycamore and pine trees looked like black dunes.
Charred remains of squirrels and other rodents lay by the road.
Joe Young, 63, who has hiked the San Gabriels for 39 years, said the burned area contains many of Southern California's most popular hiking trails.
"It's very sad," said Young, a member of the Sierra Club's 100-peaks group. "In just the burned area so far we have about 40 peaks that the club goes to regularly, if not every week."
Meteorologists said the humidity should continue to rise over the next few days, with temperatures dropping -- but slowly. Fire officials don't predict full containment until Sept. 15.
"This was like the Jabba the Hut fire," said Bill Patzert, a climatologist for the Jet Propulsion Laboratory in La Cañada Flintridge. "It's menacing and big, but it definitely can't move that fast."
Patzert said the foothill communities "dodged a bullet" in that this fire didn't erupt during Santa Ana winds.
"This could have been like the conflagration of the century with the Santa Anas," he said.
On Haines Canyon Avenue in Tujunga, Lisa Martin stood in front of her house, chatting with neighbors as ash rained down and flames scoured the hill above. She was actually happy to see the foliage burn before the Santa Anas come.
"Let it burn. Get rid of the fuel," she said.
The outlook also improved Tuesday in San Bernardino County, where firefighters gained the upper hand on the Oak Glen III and Pendleton fires Tuesday.
"If it stays like this, I expect an easier day tomorrow," said Bill Peters, spokesman for the California Department of Forestry and Fire Protection. "We may be able to release some of our resources."