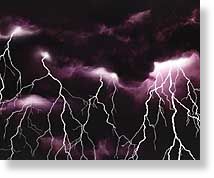 Six farmers were killed in eastern China Sunday when the hut they were sheltering in during a storm was struck by lightning, state media reported.
Another farmer in the hut was injured and taken to hospital, the Xinhua news agency quoted local officials in Anhui province as saying.
The accident happened during a heavy rainstorm in the village of Qiaodong, around 650 kilometres (400 miles) northwest of Shanghai, Xinhua quoted officials from the county government as saying.
.