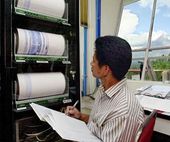 A strong earthquake of 6.6 magnitude jolted the Samoa islands region of the Pacific on Sunday, seismologists said, but there were no immediate signs of damage.
The quake struck at 3:51 am local time (1451 GMT) at a shallow depth of 10 kilometres (32 miles), some 175 miles southwest of the capital Apia, the US Geological Survey said.
The Hawaii-based Pacific Tsunami Warning Centre said no "destructive widespread tsunami threat" existed.
"However, earthquakes of this size sometimes generate local tsunamis that can be destructive along coasts located within 100 kilometres (62 miles) of the earthquake epicentre," it added.
Source: Agence France-Presse