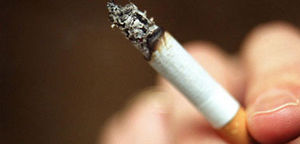 Smoking may cause cancer but the nicotine in cigarettes can improve the lives of schizophrenics by boosting attention and memory.
A chemical in the drug may help people with the mental illness to think more clearly and maintain their concentration, according to Ruth Barr, a psychiatrist who formerly worked at Queen's University Belfast, which has made the finding. She conducted a three-year study to find out why schizophrenia sufferers are three times more likely to smoke than the general population.
The illness is associated with cognitive impairments including deficits in inhibitory control that can make it more difficult for patients to resist the impulse to smoke.
Before Barr's study there had been no research involving non-smoking schizophrenics, so it was unclear whether the previous benefits described were simply due to reversing effects of nicotine withdrawal.
Sixty non-smokers took part in the study at Harvard Medical School and Massachusetts General Hospital. Twenty-eight had schizophrenia and the rest did not. All received a single dose of nicotine and took part in computer tests.
Barr said: "All studies prior to ours were conducted in schizophrenic smokers, so smokers would have been asked not to smoke for 12 hours, then given a dose of nicotine and memory-tested.
"Our study provided more evidence that nicotine can improve cognition and inhibitory control and inhibit inappropriate responses. It made them faster on the test and reduced the number of errors. They stopped impulsively hitting the computer incorrectly."
Barr said her conclusions provided another incentive to develop new treatments that could include drugs based on nicotine but without the effects of cigarette smoking.
"A lot of people involved in treating schizophrenia feel it's unlikely that nicotine itself will be developed as an agent because it's addictive and long-term administration could be dangerous," she said. "But they are trying to develop new drugs that work in the same way."
Suggestions that nicotine has a healing side are not new. More than 30 years ago, it was found smokers were less likely to develop Parkinson's disease, and evidence that they have a lesser risk of ulcerative colitis was uncovered 20 years ago.
None of the new nicotine advocates supports smoking.