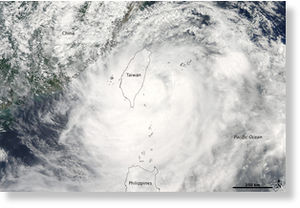 Typhoon Morakot killed three people in China after taking the lives of at least 15 in Taiwan, where it dumped record amounts of rain and left more than 100 people unaccounted for after a mudslide.
A separate storm killed 13 people in Japan.
Even as it weakened to a tropical storm today,
Morakat, the ninth typhoon of the Pacific cyclone season, had destroyed more than 5,000 homes in mainland China and affected 7.8 million people
, state-run Xinhua News Agency reported. It caused damage of 6 billion yuan ($880 million) and prompted the evacuation of almost 1.4 million people in eastern China, Xinhua said today.
The provinces most affected are Fujian, Zhejiang, Jiangxi and Anhui, Xinhua said. The storm is headed northwestward to northern Zhejiang, it said.
Morakot crossed northern Taiwan, leaving 15 people dead, the National Fire Agency said. The typhoon dumped more rain on Taiwan than in any 48-hour period since records began 100 years ago, Taiwan's chief weather forecaster, Lee Hsiang-yuan, said.
About 100 people are missing after a village was buried in a mudslide and at least 55 people are missing elsewhere on the island, the agency said.
Morakot Weakens
Morakot weakened to a tropical storm after making landfall in China, the U.S. Navy Joint Typhoon Warning Center said.
In Japan, the center of Tropical Storm Etau was 210 kilometers (130 miles) south of the southern tip of Wakayama prefecture, western Japan, as of 6:50 p.m. Japanese time today; it was heading north-northwest at 20 kilometers, according to the Japan Meteorological Agency.
Etau has maximum sustained winds of 74 kph and is forecast to pass to the south of Tokyo after 9 a.m. tomorrow, the agency said on its Web site. The storm's winds were gusting to 111 kph.
Eleven bodies were recovered in the town of Sayo in Hyogo prefecture west of Osaka, NHK Television said. Another person died in the prefecture and a woman was found dead in her collapsed house in neighboring Okayama prefecture, it said.
At least 10 people were missing in Hyogo and in Tokushima prefecture on Shikoku island, NHK said earlier.
Japan's Fire and Disaster Management Agency said nine people were dead and 18 missing at 6 p.m. local time.
Some train lines in Tokyo were suspended as of 4 p.m. local time, with delays reported on the Narita line, which serves the New Tokyo International Airport, East Japan Railway Co. said on its Web site.
3.4 Million Affected
Morakot crossed the Chinese coast near Fuzhou at about 4:20 p.m. local time with winds of 119 kilometers (74 miles) per hour. It caused the collapse of 1,800 houses in the province of Zhejiang, Xinhua said. More than 3.4 million people were affected in the province.
A child died yesterday after a house collapsed in Wenzhou in Zhejiang province, Xinhua reported earlier.
Winds slowed to 64 kilometers per hour and Morakot is forecast to continue weakening as it moves further inland. China's National Meteorological Center forecast "violent" rainstorms today and advised against working outdoors.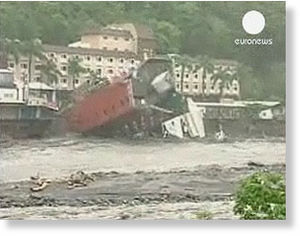 In Taiwan, Morakot damaged more than NT$4.2 billion ($128 million) in agricultural production, the government said.
Taiwan's banana crop was the most severely affected, with 4,431 hectares (10,945 acres) destroyed as of 9 a.m. today, the Council of Agriculture said.
The six-story King Shai Hotel in Taidong in southeastern Taiwan collapsed into a river after flooding undermined its foundations. The building was evacuated before it began to tilt.
Electricity was restored yesterday in some areas after disruptions affected 1.58 million households, according to the statement.
Morakot means emerald in the Thai language, according to the Web site of the Hong Kong Observatory that names the storms. Etau means storm cloud in the language of Palau, the observatory said.