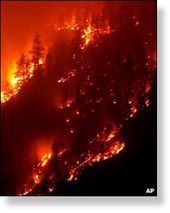 Much of British Columbia in western Canada remains on high alert as high temperatures and winds continue to stoke widespread forest fires.
Some 5,300 people have fled the latest fires as thousands of firefighters try to tackle the flames. Some 800 extra personnel have been brought in from other parts of Canada to help exhausted fire crews. Since April, more than 2,000 fires have burned 63,000 hectares (155,700 acres) in British Columbia, officials say.
British Columbia Fire Service spokeswoman Alyson Couch told the National Post newspaper that cooler temperatures on Tuesday may bring some relief from the dry lightning storms that have sparked numerous blazes.
But she warned that there seemed to be little prospect of rain.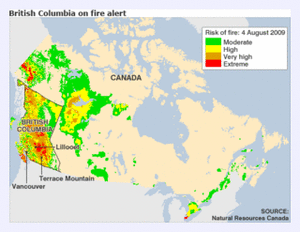 Hot dry weather and lightning storms are igniting more than 100 new fires in British Columbia's forests each day, officials say.
"The conditions are prime for fires," Fire Information Officer Radha Fisher said. "Some fires don't go out until the snow flies. We are going to control them where we can, but some of these fires will only be put out by Mother Nature."
Some 2,300 people had to leave the town of Lillooet, some 213km (132 miles) north-east of Vancouver, as a fire burned on nearby Mount McLean.
Officials said on Monday there had been little progress in tackling a fire on Terrace Mountain near West Kelowna, AFP reported.