Des Moines, Iowa - This has been an unusually mild year in Tornado Alley, which is good news, of course, for the people who live here, but a little frustrating to scientists who planned to chase twisters as part of a $10 million research project.
"You're out there to do the experiment and you're geared up every day and ready. And when there isn't anything happening, that is frustrating," said Don Burgess, a scientist at the University of Oklahoma. But he was quick to add that he is pleased the relative quiet has meant fewer injuries and less damage.
Nationwide, there were 826 tornadoes this year through June 30, compared with an average of 934 for the same period during the previous three years, according to the National Severe Storms Laboratory in Norman, Okla. Most twisters strike in Tornado Alley, which generally extends from Texas and Oklahoma to Kansas, Nebraska, Iowa and Minnesota.
During a remarkable 17-day lull from mid-May through early June, there were no tornado watches issued anywhere in the United States. And that is typically the height of the season in Tornado Alley
.
"It was very, very unusual," said Joe Schaefer, director of the Storm Prediction Center in Norman, which, like the Severe Storms lab, operates under the National Weather Service.
Meteorologists are attributing the relative calm not to anything dire, like global warming, but to the shifts in the jet stream that happen from time to time. When the jet stream runs south to north in the spring over the central states, there are usually plenty of tornadoes. When it's more west to east, as it is this year, tornadoes are less common.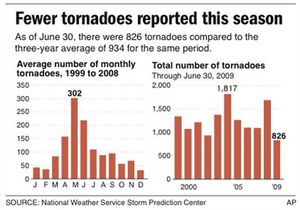 The serenity has proved exasperating for people like Burgess and other researchers working on Vortex2, a project funded by the National Science Foundation and the National Oceanic and Atmospheric Administration to study tornadoes in May and June. Except for one twister in Wyoming, the researchers were left with little to examine.
The relative calm follows a horrific 2008, when 1,304 tornadoes and 121 deaths were recorded by the end of June. In all of last year, there were 1,691 tornadoes and 126 deaths.
Organizers of Vortex2 had hoped that a close-up look at killer storms this year by more than 100 scientists and assistants from various universities and the government would help them forecast storms more accurately and increase warning times.
"There weren't any tornadoes to find," said Harold Brooks, a research meteorologist with the Severe Storms Laboratory.
And when tornadoes did form, only a couple of funnel clouds would appear at a time, not the dozens that can materialize.
"No long tracks, massive killer tornadoes," Schaefer said. "They've been coming in onesies and twosies."
Even in this quiet year, there have been devastating storms. The worst tornado hit the night of Feb. 10 in Lone Grove, Okla., killing eight people in a mobile home park. Also in February, one person died when a twister destroyed a church and mobile homes in Hickory Grove, Ga. Through the end of June, tornadoes had killed 21 people nationwide.
"If we get rid of the February outbreak, it's been a fairly good year," Schaefer said.
Southern states see most of the winter tornadoes. But in the spring and early summer, the focus shifts to the nation's midsection. The area is particularly fertile for tornadoes then because of hot, dry air from the west colliding with moist air that flows up from the Gulf of Mexico.
In Tornado Alley, the storms often hit in late afternoon and early evening.
"If you've lived here long enough, you just kind of know what to look for, how the weather acts," said Jim Bruggeman, who lives in the Iowa town of Templeton. "If it's really hot and humid, you know you are going to get a storm of some sort."
Emergency sirens are scattered through most communities in the Midwest, and people keep water, canned food and a battery-powered radio in the basement, along with books and games to pass the time while waiting for the all-clear.
Bruggeman and others said the lull in twisters is not making people blase and causing them to let down their guard. "If you've lived here long enough, you go with the flow, and if it happens, we just do our thing. Everybody knows what to do," he said.
Harry Hillaker, Iowa state climatologist, said it is difficult to say where this year in Tornado Alley ranks in the record books and whether anything like the 17-day lull has happened before.
He said tornado reporting has improved so much in recent years, especially with the adoption of Doppler radar by the National Weather Service in the 1990s, that comparing current totals and figures from decades ago is an apples-to-oranges exercise.
Organizers of Vortex2, or Verification of the Origins of Rotation in Tornadoes Experiment, note that it is two-year project and said they will give it another try next spring.
Betty Michels, whose house in St. Peter, Minn., was destroyed by a storm in 1998, said the lesson from that disaster is not to take chances. She said she doesn't recall the sirens going off at all this year, but if they do sound, she intends to head for the basement.
Of course, she'd love it if tornadoes stayed away all summer.
"Oh, that'd be nice," she said.