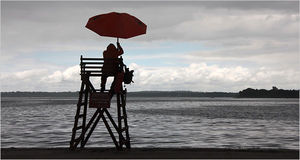 It's a gross, grungy, disgusting summer-in-the-city tradition: the muggy 90-degree day or, worse still, the 99-degree day.
But this summer has been conspicuously different in New York City. Not one 99-degree day in Central Park. Not a single day that the temperature even approached 90. For just the second time in 140 years of record keeping, the temperature failed to reach 90 in either June or July.
The daily average last month was at or below normal every day but two. The temperature broke 80 on 16 days in New York - one more day than in Fairbanks, Alaska. Depending on Friday's high, this was the second or third coolest June and July recorded in New York. If August follows the same pattern - and the latest forecast through midmonth predicts that it will - this could be the coolest summer on record.
The result: relief, lower electric bills, spared lives and undisturbed slumber.
But this being New York, New Yorkers have also recalibrated their threshold for heat complaints. This summer, 85 is the new 95.
"There's no doubt there's a tendency to acclimatize to a weather pattern," said Fred Gadomski, a Pennsylvania State University meteorologist. "This summer, we've had so many relatively cool days that even if it gets a little warm people are reacting to it as if it's a very hot day."
In the end, this will have been the coolest June and July since either 1903 or 1881, when sweltering New Yorkers grumbled about a sudden early August heat wave.
"There were warmer days during last summer,"
The New York Times
reported on Aug. 6, 1881
, "but men and women became accustomed to the unexampled heat of that unexampled season and did not mind it so much."
This was the sixth coolest July on record. The high was 86 on July 17. For June and July, the average as of Thursday was 70.6, the third coolest. As of the end of the day Thursday, the average temperature in July was 72.6, nearly four degrees below normal.
"A monthly departure of four degrees below normal is very significant," said Gary Conte, a National Weather Service meteorologist.
The relatively cool first half of summer in the Northeast and Upper Midwest has had far-reaching effects.
In New York, Con Ed produced 5.5 percent less power in June than the year before, never appealed for special conservation protocols and reported no blackouts or brownouts. Daily peak use, which reached 10,934 megawatts on Tuesday, was well below this summer's projected high of 11,945 megawatts. Many electric bills have shrunk by 6 percent or more.
Attendance at city beaches through July 28 was down 30 percent, from 7.3 million to 5.1 million.
From July 1 to 28 in 2008, the Emergency Medical Service answered 134 heat-related calls. This year, there were 41. In 2008, the office of the chief medical examiner blamed the heat for nine deaths, all in June. This year, not a single heat-related death has been reported.
The threshold for opening cooling centers for the aging and other vulnerable New Yorkers was never reached. Nor was the 90-degree trigger requiring that carriage horses be stabled.
Air-conditioner sales at J. Eis & Sons on the Lower East Side are down almost 50 percent.
"It's just not that hot," said Lenny Eis (pronounced ice), the owner.
At the South Street Seaport, Manhattan by Sail has been presciently offering a steep discount, to $10 from $39, for rides on the Clipper City on any day that the temperature hits 90.
"This is the first year we've done that special," Tom Berton, the sailing company president, said, "but we weren't trying to ward off nice, warm days."
One reason for the record-breaking low temperatures was the record-breaking rainfall and accompanying cloud cover. The deluge of more than 16 inches (twice the average amount) made it the second wettest June and July on record, edging 1928. The wettest June and July was 1975, with more than 19 inches.
As a result, reservoirs are at 97 percent of capacity versus an average of about 90 percent. In part because it has been cooler, water consumption plummeted compared with last July, from 1.2 billion gallons a day to less than 1.1 billion. Complaints about open fire hydrants were halved, to 2,652.
William D. Solecki, a geography professor at Hunter College of the City University of New York and co-chairman of a mayoral panel on climate change, warned that this summer's unusually mild temperatures should not buoy global warming skeptics.
"Ask them to visit Seattle," he said, where a record temperature of 103 was recorded on Wednesday.
"On average, going back decades, we would only have a few days above 90 in any given summer," he said, "and while we haven't hit that mark yet, there's still a lot of summer left."
Even before summer, the temperature hit a record high of 92 degrees on April 26.
Still, said Mr. Gadomski, the Penn State meteorologist, "it just isn't quite summer in the city this year."
"We've never been able to string together a series of days with heat and humidity and haze," he said, "all those wonderful things we come to think of as summer in New York."
Why not? Mr. Gadomski explained that a persistent high-level jet stream has sent cooler air streaming from the north and northwest. Usually, summer weather in the Northeast is determined by a weaker wind from the west and southwest.
Scientists believe the shift is connected with the temperature of the oceans and their pattern of heating and cooling the atmosphere but, Mr. Gadomski said, "our understanding of how a persistent pattern locks in isn't very good."
In any case, he said, "the overall pattern as we go into the first part of August doesn't look a whole lot different from what has been happening."
The last time the temperature never reached 90 in June and July was 1996.
Apart from the humidity, the heat index and any other measure of your misery above or below ground, there is another reason you may feel hotter on any given day than the announced temperature in Central Park would suggest: the official thermometer there is housed comfortably in the shade.
"The air temperature is what you're trying to measure," Mr. Gadomski said. "The sun heats the ground, which heats the air. It can be 10 or 20 or 30 degrees warmer in direct sunlight."