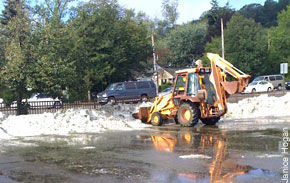 It was Christmas in July for some Westchester County residents.
A wintry mix of hail and heavy thunderstorms downed trees and utility poles in Yonkers last night -- causing mountains of slush and ice to build up in parking lots and on grassy areas.
Police said at least two homes were damaged by falling sleet, which hit the area at 11:30 p.m.
Snow plows were called in early this morning to help remove the snow, while extra fire trucks were on hand to help with the unseasonal cleanup.
A section of the Saw Mill Parkway's exit ramp in Yonkers was especially icy, causing cars to get stuck in as much as two inches of sleet during the early morning rush-hour.
Several residents called 911 last night claiming they had spotted a tornado, although local authorities could not confirm that a twister had hit the area.
No injuries were reported.
Local emergency management officials will survey the damage in Yonkers and other parts of the county later today to determine whether a twister actually touched down.
A tornado warning had been issued last night for southern Westchester by the National Weather Service.
The number of power outages, meanwhile, reached over 14,000 homes across parts of lower Westchester just before 10 a.m. today.
Hardest hit was Yonkers with 9,277 outages, according to Con Ed.
The utility company said they were working to restore power to the affected areas, which included Bronxville and Mount Vernon.