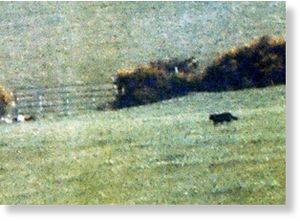 There has been an increase in big cat sightings in Ulster's countrysides recently - with 44 alleged sightings investigated in the last five years.
Police have probed claims from members of the public that panthers, leopards and in one case even a lion have been spotted.
Details of sightings released by the PSNI follow reports two big cats are on the loose in Co Down.
Last week a group of walkers reported seeing two large, wild cat-type animals in the area of the Bloody Bridge in Newcastle.
Both animals were described as being about the size of a Labrador but with feline characteristics and black shiny coats.
The most common areas for sightings are Cookstown and Armagh, with six reports in each area. These include claims of a large black cat, a sandy mountain lion, a puma and two sightings of a panther.
Last March a four foot long black cat was spotted in Antrim, while a "large white cat leopard" was also sighted in north Belfast.
There were also reports of a possible tiger or puma in Foyle, a "large wild cat" in Newtownabbey and "a big black cat" in Strabane.
Chris Johnston is a big cat expert based in England and has been researching sightings across the UK for almost 20 years.
He has had two encounters with big cats, one in Lancashire in 2003 and the other in Somerset two years ago, but said the animals posed little threat to the public.
"Because there are so few big cats in the UK, they don't face competition for food or territory from other cats," he said.
"That affects their behaviour and also their level of aggression, which is dramatically reduced.
"These creatures are very elusive and they do their best to avoid people. I've had two encounters myself and on both occasions the animals just walked off."
David Wilson from the USPCA said the reported sightings were unlikely to reflect the actual number of big cats in Northern Ireland.
"No one can be certain how many big cats are roaming across the province but each sighting has to be taken seriously. These animals do not set out looking for trouble. They are shy, gentle and generally elusive creatures."