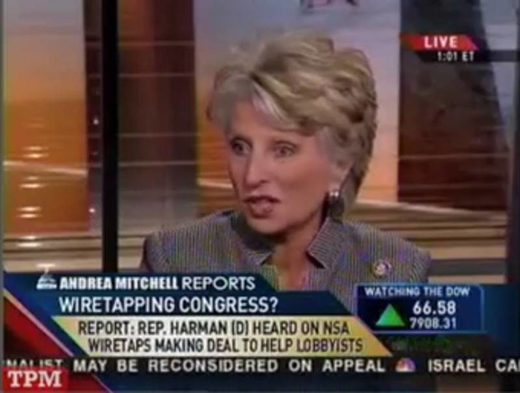 The National Security Agency briefed Speaker Nancy Pelosi (D-Calif.) "a few years ago" that they had wiretapped Rep. Jane Harman (D-Calif.), Pelosi revealed Wednesday.
But Pelosi said she was not told what federal eavesdroppers picked up on the call - and never alerted Harman to it.
"It was not my position to raise it with Jane Harman," Pelosi told reporters at the
Christian Science Monitor
lunch. "In fact, I didn't even know if what they were talking about was real. All they said was that she was wiretapped."
Pelosi also offered her strongest support to date for Harman, a sometimes-foe that has been rattled this week by charges that the wiretap caught her agreeing to seek leniency for two suspected spies in return for help securing the gavel of the House Intelligence Committee. Harman was ranking member on Intelligence at the time of the alleged wiretap, and she was ultimately passed over for the chairmanship by Pelosi when Democrats won the House majority in 2006.
"I have great confidence in Jane Harman," Pelosi said. "She's a patriotic American. She would never do anything to hurt her country."