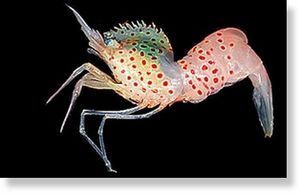 Have you ever wanted to name your very own species of animal?
Well now is your chance - you can name a shrimp.
Yes, that's right, you could name this newly discovered spotted shrimp - and help save ocean wildlife in the process.
PhD student Anna McCallum made the discovery of a new spotted shrimp in the water of south west Australia, and has decided to auction the naming rights, with all money raised going to marine conservation.
And so the Australian Marine Conservation Society is hosting an online auction, beginning at 9am March 22 and ending at 9am March 31.
The mysterious little creature lives in the dark depths of Australia's south-west oceans, and despite living 400 metres below the surface, has a jewel-like appearance. Morphing from yellow to green, the shrimp is covered in scarlet spots and sports a toothed crest across the top of its body and is in the group of shrimps known as Lebbeus.
For more information visit the society's website.