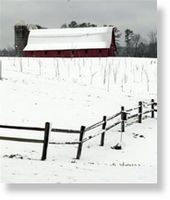 A potent March snowstorm blanketed much of the Southeast with snow Sunday before barreling toward the Northeast, where officials prepared snowplows and road-salt for a wintery assault.
The icy blast threatened to drop up to a foot of snow in the Philadelphia area, 13 inches in New York and 15 inches across southern New England late Sunday.
Thousands of New York City sanitation workers prepared to salt city streets, and airlines preemptively canceled flights Sunday at the region's major airports.
The Pennsylvania Department of Transportation planned to attack the snow in the Philadelphia area with 400 trucks and 77,000 tons of stockpiled salt, assistant press secretary Gene Blaum said.
In Georgia, the snowfall rendered roads treacherous and delayed flights, while in Alabama, more than 210 churches in the central part of the Bible Belt state had to cancel morning services.
Vonda Braswell of Alabaster, Ala. was throwing snowballs in her front yard instead of putting on her Sunday best. "I think you can worship in this it's so rare," she said.
Up to 7 inches of snow was expected through Monday morning in areas of Maryland, northern Virginia and Washington, D.C., where Mayor Adrian Fenty declared a snow emergency.
In Virginia, nearly 10,000 customers of two power companies lost electric power Sunday night after the storm blew in.
Maryland has already spent more than $40 million responding to bad weather in what's been a colder-than-usual winter, Gov. Martin O'Malley said Sunday. Any money spent on digging out from the rare March storm will further burden a state that's facing a $2 billion budget shortfall.
"I don't like snow," O'Malley said.
In New York, Mayor Michael Bloomberg announced more than 1,300 sanitation workers stood ready to spread salt and plow streets.
"It's the first of March, which as you know is the month that we say comes in like a lion and out like a lamb," he said. "It's pretty clear that the lions are getting ready to roar."
As Wayne Letson drove through Alabama toward Florida on Sunday, the Michigan resident fretted about sharing the roads with Southerners unaccustomed to winter weather. The last time it snowed in Alabama was more than a year ago, in January 2008.
"This is nothing to me, but I'm worried about the other people who think they know what they're doing," he said.
Despite above-freezing temperatures in downtown Atlanta, a heavy curtain of snow fell on cars and caused traffic accidents on slushy streets. The unusual weather prompted Jessi Prahl and Max DiPace to take their dog, Cooper, on a walk through snow-covered Piedmont Park.
"You know us Southerners, we all freak out when it snows," said Prahl, 26.
Some flights were canceled at Hartsfield-Jackson Atlanta International Airport, where the average delay was nearly two hours, according to the Federal Aviation Administration Web site.
AirTran Airways spokesman Tad Hutcheson said flights out of Atlanta into the Northeast might also be canceled Sunday night.
"I expect the Northeast will be hit pretty hard tonight so our expectations is that people flying into Washington, D.C., and Boston will need to call or check our Web site for possible cancellations," Hutcheson told The Atlanta Journal-Constitution.
Georgia transportation officials warned of potential icy buildup on roads in middle and northern counties through Monday morning, especially as temperatures plummet overnight.
The late Southern snowfall revived memories of a large storm in 1993 that forecasters nicknamed the "Snowfall of the Century," which spanned a region from Alabama to north of Washington, D.C., said Laura Griffith of the National Weather Service. In that storm, Atlanta received 4.2 inches of snow and 13 inches fell on Birmingham, Ala.
Outside the CNN Center in downtown Atlanta, Flori Kwon of Claremont, Calif., took pictures of her son Jake, 5, cavorting in the snow.
"He wants to make a snowman but I don't think there's enough," Kwon said while large snowflakes landed in her hair. "We're kind of surprised it's snowing."