Hundreds of sparrows littered New Plymouth's main street yesterday, shocking business owners arriving at work and baffling a bird expert.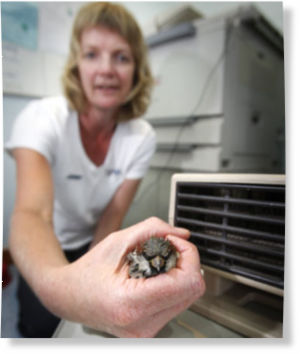 The drenched birds were dropping like flies from two trees on the Hill on Devon St West after a deluge of rain.
Autopsies will be done on some of the dead birds to see if foul play was involved.
The Shampoo Shop and Salon owners Jane Moodie and Jan Bocock said waterlogged birds lined their shop front as they arrived at work about 8.15am.
"When I first arrived I thought they were rats and told my partner to go and get rid of them," Ms Moodie said.
"There was just heaps of them. I've never seen anything like it," Ms Moodie said.
She telephoned the New Plymouth District Council to advise them what was happening.
Some of the birds died on the footpath as people walked past on their way to work, while others huddled together in large groups attempting to keep warm.
Ornithologist David Medway was baffled.
"They have been in those trees for a long time and they don't usually fall out," Mr Medway said.
"It is rather strange that some should die and others were fine after they had dried out."
Mr Medway did not think yesterday's heavy rain could be the cause.
"We've had heavier rain before than we've had this morning."
NPDC enforcement manager Lloyd Crow said a council contractor collected the bodies of the dead birds.
Mr Crow said he would be getting the dead bodies tested to see if they had been poisoned.
"At this point in time I am intending on getting some samples of the bodies autopsied by a vet."'
He believed the deaths could have been a "natural phenomenon" caused by the heavy rain.
New Plymouth man Craig St George had no explanation for what he was seeing.
"There is something going on, there really is, it is weird," Mr St George said.
He believed it must have something to do with what the birds had eaten and wondered whether they had been poisoned.
Joel O'Connor, who lives on a farm up Carrington Rd, collected some of the birds to take home.
"I'll put them in the haybarn and let them dry off.
"They will do well on the farm."
Mr O'Connor said what had happened to the birds was mysterious.
"It is bizarre," he said.
SPCA field officer Jackie Poles-Smith said officers were shocked when they arrived.
"We couldn't believe how many there were," she said.
Officers collected about 100 birds and took them back to the SPCA.
"They are alive they have warmed up and they are all feeding and they are doing really well," Mrs PolesSmith said.
She had never seen anything like it before and did not know exactly what could have caused the birds to drop dead.
"We assume that it is the rain and the cold because they are all young birds."
The sparrows would be released when they had recovered.
"We'll shut all of the cats away and wait for a nice sunny day and let them all go," she said.
Source:
Taranaki Daily News