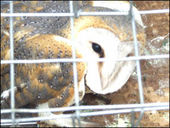 Ankobea Hemaa, Abena Nana Annorbea of Obosomase Akwapim in the Eastern region who recently returned home from Italy must have been happy to escape the severe winter weather there.
What she did not bargain for, however, was the haunting sound of footsteps on the rooftop of her present home. The strange footsteps which she said are loudest over the kitchen area, would usually begin around 6:30pm and continue throughout the night.
Nana Annorbea told
Daily Guide
that after several fruitless efforts to trace the source of the noise, she engaged the services of a young man to climb the roof of the apartment complex and uncover the mystery.
She also asked for help from two pastors in the area and to her surprise, an owl was found in one of the rooms. It took the young men in the area about 15 minutes to capture the bird and place it into a cage while they searched for answers. A family friend immediately invited Agya Abrefie, the presenter of the Ewiemu Eweimu Programme on Peace FM, an Accra-based radio station.
News of the bird's capture spread quickly, causing the entire Obosomase community to throng Nana Ankobea's house just to catch a glimpse of the owl and meet Agya Abrefie.
Later, Agya Abrefie told
Daily Guide
that he preferred to keep mum on the issue for now, adding that he had inspected the entire house and would provide the family with the physical and spiritual implications of the bird's presence.
The happy family confirmed that they are now enjoying good night's sleep.