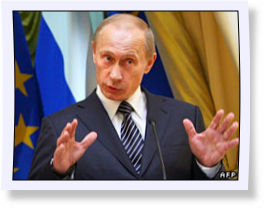 An Abba tribute band says it has performed a private concert for Russian Prime Minister Vladimir Putin.
Bjorn Again says it was paid £20,000 to play the gig 200 miles (320km) north of Moscow on 22 January.
Bjorn Again's manager Rod Stephen and other band members said Mr Putin danced to Abba hits and shouted "Bravo!"
The PM's spokesman denied the claim. Mr Putin - a former KGB spy who has a black belt in judo - is known in Russia and the West for his macho image.
'Paid by Kremlin'
Bjorn Again says that in January it was flown from London to Moscow and then driven north to a place on the shores of Lake Valdai.
The four-member group says Mr Putin and about seven other guests, including a woman, were present at the concert, but they sat on a sofa veiled by a curtain.
"It was the smallest audience we have ever performed to but Mr Putin was really enjoying it, shouting 'Bravo' and clapping with the others," Aileen McLaughlin, who performs as Abba's blonde Agnetha Faltskog, was quoted as saying by the Times newspaper.
"He [Putin] was dancing along in his seat to Super Trouper and raised his hands in the air during Mamma Mia when we asked the audience to," she said.
Bjorn Again says it performed 15 Abba songs during the private gig, claiming that it was paid by the Kremlin.
Mr Putin's spokesman Dmitry Peskov denied that the prime minister attended any such concert.
Russian President Dmitry Medvedev, who succeeded Mr Putin last May, is a well-known fan of British band Deep Purple.
Last year, Mr Medvedev attended a concert by the British rockers to mark the 15th anniversary of the founding of Gazprom.