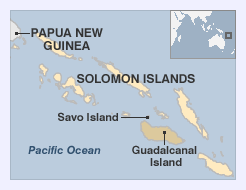 The Solomon Islands has declared a national disaster after heavy rain and flooding killed at least nine people.
Emergency workers say nine more people are missing on Guadalcanal island, and dozens have been evacuated from there and nearby Savo island.
Officials say they fear the death toll could rise as an estimated 1,800 people need urgent help.
The government has appealed for international assistance, with France and Australia promising emergency aid.
Earlier, the Solomons prime minister and Guadalcanal premier flew by helicopter to the worst-affected areas.
The disaster management office chief, Julian Makaa, said that emergency aid supplies were being distributed to flood-hit areas.
Since December, flooding has also hit the Pacific island nations of Fiji, Papua New Guinea, Micronesia and the Marshall Islands, forcing tens of thousands of islanders to flee their homes.
The Solomons has a population of about 500,000 mainly ethnic Melanesians, spread across hundreds of islands, which gained independence from Britain in 1978.