Bitter winds, freezing fog and icy nights will usher in the New Year, forecasters have warned.
Temperatures could drop to as low as minus 13c (9f) in the next couple of weeks as Britain experiences night after night of frost.
Daytime temperatures will barely rise above zero in many areas this week, and revellers will need to wrap up warmly on New Year's Eve to keep out the chill.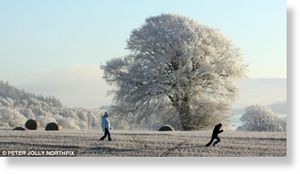 The forecast follows the coldest start to winter in three decades and a blast of snowy weather which hit Britain in early December.
Met Office forecaster Stephen Holman said the next two weeks are expected to remain bitterly cold.
There is significant risk of a 'very cold snap' towards the end of the next fortnight bringing sleet and snow in northern and eastern regions, he added.
'We are pretty confident that temperatures will stay below average for the next two weeks,' he said.
'This coming week, maximum daytime temperatures will be between 2c (36f) and 4c (39f). Overnight, it might go as low as minus 6c (21f) in some places.
'Our 15-day forecast is that there is a significant risk that it will then become very cold. Northern and eastern areas have the biggest chance of sleet and snow.
'But that is not to say that southern and western areas will not have sleet and snow, too.
'We have already seen overnight temperatures as low as minus 13c in the Scottish Highlands this month and at the end of November.
'And we could see a return of those temperatures in the next two weeks.'
While the mercury reached a more agreeable 4c (39f) in Southern England yesterday, the biting 17mph wind made it feel much colder. The next few days are expected to stay dry, but cold, with fog and frost in the early morning.
After a snow-free Christmas, Ladbrokes was yesterday offering odds of 12/1 on snow falling on New Year's Eve in London.
A spokesman said: 'It's the first time we've offered punters the chance to bet on New Year's Eve snow. We'll be funding plenty of customers' celebrations if it falls on the 31st.'
Although the cold snap is normal for the end of December, it comes after a run of extremely mild winters in Britain.
Scientists have linked the cooler temperatures to La Nina - a weather phenomena which has seen colder than normal sea temperatures in the equatorial Pacific.
Even so, 2008 is expected to be the tenth warmest year since records began more than 150 years ago.