Conservationists have found a host of new species after discovering uncharted new territory on the internet map Google Earth.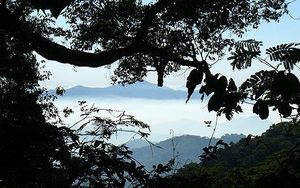 The mountainous area of northern Mozambique in southern Africa had been overlooked by science due to inhospitable terrain and decades of civil war in the country.
However, while scrolling around on Google Earth, an internet map that allows the viewer to look at satellite images of anywhere on the globe, scientists discovered an unexpected patch of green.
A British-led expedition was sent to see what was on the ground and found 7,000 hectares of forest, rich in biodiversity, known as Mount Mabu.
In just three weeks, scientists led by a team from the Royal Botanic Gardens in Kew found hundreds of different plant species, birds, butterflies, monkeys and a new species of giant snake.
The samples which the team took are now back in Britain for analysis.
So far three new butterflies and one new species of snake have been discovered but it is believed there are at least two more new species of plants and perhaps more new insects to discover.
Julian Bayliss, a scientist for Kew based in the region, discovered Mount Mabu while searching on Google Earth for a possible conservation project. He was looking at areas of land 5,400ft (1,600m) above sea level where more rainfall means there is likely to be forest.
To his surprise he found the patches of green that denote wooded areas, in places that had not previously been explored. After taking a closer look on more detailed satellite maps, he went to have a look.
An expedition was organised for this autumn with 28 scientists from the UK, Mozambique, Malawi, Tanzania and Switzerland. The group was able to stay at an abandoned tea estate but had to hack through difficult terrain and use 70 porters in order to carry out their investigations.
Within weeks
they had discovered three new species of Lepidoptera butterfly and a new member of the Gaboon viper family of snakes that can kill a human in a single bite. There were also blue duiker antelope, samango monkeys, elephant shrews, almost 200 different types of butterflies and thousands of tropical plants.
Jonathan Timberlake, expedition leader, said digital imagery has helped scientists to discover more about the world. He believes there may be other small pockets of biodiversity around the world that are yet to be discovered that could be stumbled upon by searching on Google Earth, especially in areas like Mozambique or Papua New Guinea which have not been fully explored yet.
Mr Timberlake said discovering new species is not only important to science but helps to highlight conservation efforts in parts of the world threatened by logging and development.
Mount Mabu itself is under threat as Mozambique's economy grows and people use the wood for fuel or clear the land to grow crops.
"We cannot say we have discovered all the biodiversity areas in the world, there are still ones to discover and it helps to find new species to make people realise what is out there," he said.