The area near Iraq's border with Iran is known to be less than stable, and now it seems Mother Nature has joined smugglers and suspected militiamen in stirring up the pot there. Early today, an earthquake hit southern Iraq, centered near the Iranian border and strongly felt in the city of Amarah about 40 miles to the west.
The Voice of Iraq news agency said it measured about 5.1, but the U.S. Geological Survey put it at 5.7, not huge but big enough to frighten people unaccustomed to such things.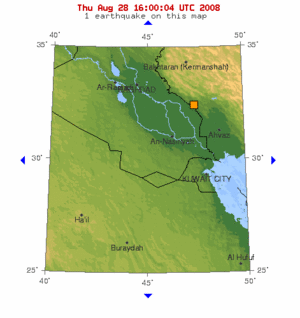 ©U.S. Geological Survey
"I was sleeping inside my room when I noticed that the lights of the room, fans and the furniture were moving in different directions," said one Amarah resident. "I tried to stand up. I discovered it was not only the ceiling but the floor moving as well!"
People, followed by cats, dogs and other animals, fled into the streets, shouting to each other and searching for friends and relatives in the dark. After a while, the messages were sent through loudspeakers in mosques to calm people down.
For hours, the city resembled a doomsday scene. People milled outside, advised to stay out of their homes by rescue workers in case another temblor struck. By daylight, they had gone home. No casualties were reported, but there were fears another quake could strike.
Iraq's last earthquake came in February, when a series of small but frightening quakes hit the city of Kut, about 100 miles southeast of Baghdad.