CHARLESTON, S.C. - Tropical Storm Cristobal formed off the Southeast coast Saturday, the first storm to threaten the U.S. this hurricane season, forecasters said.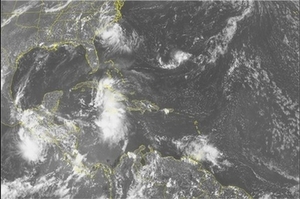 ©AP Photo/Weather Underground
This NOAA satellite image taken Saturday, July 19, 2008 at 2:15 PM EDT shows clouds off the Southeast Coast associated with Tropical Storm Cristobal. The storm is expected to move northeastward along the eastern seaboard with a possible landfall along the Outer Banks of North Carolina late Sunday. It is not expected to reach hurricane strength.
The storm's stregthened from a tropical depression, and promised to bring much-needed rains to the eastern Carolinas before it was predicted to slip out to sea.
At 2 p.m. EDT, the center of the storm was about 100 miles east of Charleston and about 225 miles southeast of Cape Hatteras, N.C.
The National Hurricane Center said Cristobal (pronounced crist-TOE'-ball) was moving northeast at about 7 mph.
Although the center of the storm, with maximum sustained winds of 40 mph, was forecast to remain off the coast through the weekend, tropical storm warnings were in effect from the South Santee River in South Carolina to the North Carolina-Virginia state line, including Pamlico Sound.
Flood advisories were posted for coastal counties and Wilmington, N.C., received 2 1/2 inches of rain Saturday, said Stephen Keebler, a meteorologist at the National Weather Service there. Cristobal's winds were not expected to be a problem, Keebler said.
"It's some rain and a little bit of relief for the coastal areas and a lot of excitement, but that's about it," he said.
The rain bands were weakening as they spun farther inland, providing little relief for parched areas near Interstate 95 in North Carolina, he said.