Hawaiian Volcano Observatory geophysicists have been working this week to survey a dozen Global Positioning System sites atop Haleakala as part of a routine check on what is still considered an active volcano.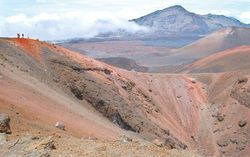 ©Maui News File Photo
According to the U.S. Geological Survey, the 10,000-foot volcano last erupted about 400 years ago. It was thought that the volcano last spewed lava around 1790, a date based largely on comparisons of maps made during the voyages in the late 18th century by French explorer Jean Francois de Galaup, Compte de La Perouse and British Capt. George Vancouver.
But recent carbon dating of lava flows at Haleakala put the date of the last eruption in the 1600s, according to the USGS.
Jim Kauahikaua, scientist in charge at the Hawaiian Volcano Observatory, said there's been no signs so far of anything that would indicate that Haleakala could erupt any time soon.
Scientists take measurements at the sites atop Haleakala - some of which need to be reached by helicopter - and compare those readings with data taken earlier. The last measurements for Haleakala were done in 2005.
The scientists are looking for ground movements that might indicate a change in activity of the volcano. When magma accumulates beneath a volcano, it inflates, much like a balloon, and scientists measure the deformation to estimate the depth and amount of magma underneath.
"Repeated measurements over the past decade have shown no significant movement of the volcano," according to a USGS news release.
Kauahikaua said scientists have plans to install sensitive seismic-measuring instruments that are not stationed on Haleakala, but those are subject to budget constraints.
This week's monitoring of Haleakala was made possible with the cooperation of Ulupalakua Ranch, Kaonoulu Ranch, Hana Airport, Maui Pineapple Co., the Department of Hawaiian Home Lands and Haleakala National Park, all of which granted access to the monitoring stations.
Haleakala is one of five active volcanoes in the Hawaiian islands. The others are: Kilauea, Mauna Loa and Hualalai on the Big Island and Lo'ihi, which is rising from the ocean floor 20 miles south of the Big Island. Kilauea has been erupting continuously since 1983, and 13,679-foot-high Mauna Loa (measured from sea level) is the largest volcano on earth.