People in the Crown King and Horse Thief Basin areas were asked to leave immediately Sunday afternoon because of a growing wildfire.
At 4 p.m., fire crews say flames had torched 300 acres and that the fire was growing.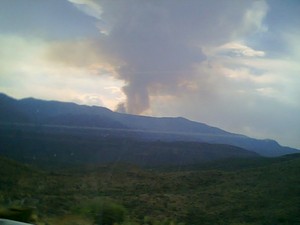 ©Christopher Sign
Crown King smoke plume (Arizona).
"This is a very serious situation," said Steve Sams with the Prescott National Forest Office.
The fire was located about one mile south of Crown King, northeast of Lane Mountain. It was slowly moving north.
Fire crews used aircraft to battle the blaze. A 60-person fire crew was on the ground hiking and trying to build a fire line to stop the flames from spreading.
The Red Cross had set up a shelter at Mayer High School in Spring Valley late Sunday afternoon.
The Yavapai County Sheriff's Office said the fire is human-caused. YCSO was conducting a search and rescue effort on Saturday in an effort to find five lost hikers in the area.
Investigators say one of the hikers left the group to find a way out and when that person got lost, he set a signal fire which got out of hand.