Rising waters burst through an overtaxed levee on the Mississippi River Tuesday, sending gushing torrents into an Illinois town as the sodden US midwest reels from days of epic flooding.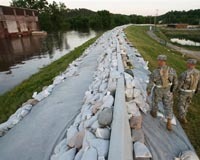 ©AFP
Missouri Army National Guard Staff Sergeant Matthew Crounse and Sergeant Darrell Rankin patrol the top of the levee next to the flooding Mississippi River June 17, 2008 in Clarksville, Missouri. Communities along the Mississippi River continue preparing for flooding as the river continues to rise.
The levee break left Highway 34 at Gulfport, on the Illinois side of the Mississippi River, under water prompting officials to close a bridge to the neighboring town of Burlington and creating havoc for commuters.
News reports said a flash flood warning was in effect Tuesday in Henderson County, Illinois as a result of surging waters from the levee break.
More than 1,000 Illinois National Guard troops were working alongside hundreds of inmates from the state's prisons to shore up levees throughout the state, a spokeswoman with the Illinois Emergency Management Agency told CNN.
"We were very, very disappointed that this levee broke today," said emergency official Patti Thompson, adding the imposing Mississippi, "is a very powerful river and it can be hard to harness" even in drier times, let alone during record flooding.
Officials had anticipated that the levees could be a weak point and had sought to shore them up with sand bags, she said, adding: "We have been focusing quite a bit on all of these levees."
President George W. Bush vowed Tuesday to help flood-ravaged states get back on their feet, and was due to tour neighboring devastated Iowa on Thursday.
"I fully understand people are upset when they lose their home. A person's home is their most valued possession," Bush said, adding he had been briefed by administration officials on the disaster.
"We want to work with state and local folks to have a clear strategy to help people find -- get back into a place that -- where they can live," the president said, adding that housing and fresh water were the top priorities.
Bush, who was sharply criticized for the administration's slow response to Hurricane Katrina in New Orleans in 2005, is to visit Iowa with a federal disaster response team.
"I'm going to take our team down to meet with the folks in Iowa," he said, adding, "unfortunately I've been to too many disasters as president."
Many Iowans who had scrambled to try to contain damage as flooding ravaged dozens of Midwest towns over the weekend, were left with little option but to evacuate Tuesday with the Mississippi yet to hit its high point.
The massive river, which passes through 10 states in its 3,734-kilometer (2,320-mile) journey from its source in Minnesota to its mouth in the Gulf of Mexico, is engorged by water from the Iowa and Cedar Rivers.
The waterway defines the border between Iowa and Illinois. And while the water may have stopped surging in parts of eastern Iowa, it remains a problem, amid fears that the floodwaters could begin to pose a health risk.
"It will take us a week before we can even assess what the cleanup is going to be," said Columbus Junction Mayor Dan Wilson.
"It will be days before we can get to the point that we can start pumping the water out. Right now, we just have to live with it."
No one yet knows how many small communities have been swamped, but there are dozens on the back roads of Wisconsin, Illinois, Indiana and Iowa.
Authorities fear the potential health impact of unclean water supplies, and that widespread crop damage will help worsen already high food prices.
More than 11 million people in nine midwestern states have been affected by the flooding and extreme weather of recent weeks, the Federal Emergency Management Agency (FEMA) has said.
Iowa was by the far the hardest hit: 83 of the state's 99 counties have been declared disaster areas, and more than 4.8 million sandbags have been laid down to try to stem the tide.