DES MOINES - Officials in Iowa's capital city urged residents threatened by the rising Des Moines River to evacuate on Friday, calling the situation "extremely dangerous."
"We are commencing a voluntary evacuation," Des Moines Mayor Frank Cownie said, predicting the evacuation would be complete by the evening. "We think that the levels are going to be at or very close to levee height."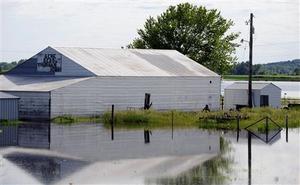 ©REUTERS/Dave Kaup
A farm building is immersed in floodwaters near Thurman in southwest Iowa June 12, 2008.
Police Chief Judy Bradshaw said "very significant areas of our city" of more than 250,000 that abut the river will be evacuated because of the flood threat.
The evacuation is voluntary at this point, but "as the circumstances change, however, this may become mandatory," Bradshaw said.
All but a few of Iowa's counties have been affected by the flooding, with thousands forced out of their homes. Broad swathes of other Midwest states also have been inundated by a series of storms.
"Each and every property in that area is at risk," said William Stowe, Des Moines' public works director.
"The weather looks seemingly very beautiful," he said, noting clear skies, "but being in this area is extremely dangerous."
An automated phone system will notify residents to evacuate their homes. Police are going door to door in the areas affected.
"We need everyone's help to comply with this evacuation so it's real orderly ... remain calm," Cownie said.