BEICHUAN - Muddy lake water from a dangerously unstable "quake lake" rushed into the devastated Chinese town of Beichuan on Tuesday, covering about a third of the settlement where the water level was rising fast.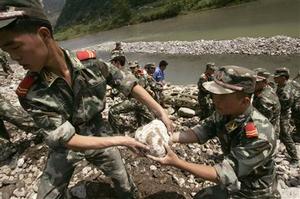 ©REUTERS/Alfred Cheng Jin
Soldiers pile up stones to build a temporary dam against the possible coming floods at the earthquake-hit Yong'an town of Anxian County, Sichuan province, June 9, 2008.
Brown water, clumps of trees and occasional vehicles pushing against buildings were moving quickly into low-lying areas of the town, washing away remains of buildings, bodies and valuables left under the rubble.
The water level at the Tangjiashan quake lake formed by China's most devastating earthquake in decades dropped by nearly two meters (seven ft) in one hour on Tuesday, after soldiers used explosives to widen a sluice, Xinhua news agency said.
The Tangjiashan lake, the largest of the more than 30 created when landslides blocked the flow of rivers, has forced the evacuation of more than 250,000 residents downstream in case the unstable dam of mud and rocks bursts.
Helicopters were evacuating remaining soldiers and experts on top of the dam, which was no longer safe because of the accelerating flow of water, Xinhua said.
Beichuan was so thoroughly ravaged that authorities sealed it off after the tremor.
The flooding brought more heartache to people displaced by the May 12 earthquake in which nearly 87,000 people either died or are missing. Many said goods and cash inside their homes were lost for good.
"It began flooding early this morning," said shop assistant Zhu Yunhui, 37, who said she had kept many tens of thousands of yuan in her home. "Now we can never go back. This is heartbreaking."
Over 250,000 have been moved as a precaution, often to encampments close to their homes or earlier camp sites.
The arrival of China's rainy season is an additional worry. The large catchment area for the lake, the biggest of around 30 created by the quake, means that 2 millimeters of rain could cause a water level rise of 1 meter, Xinhua has said.
"If the lake level does not start to at least stabilize, and preferably fall, soon then the danger level will rise substantially. This remains a deeply worrying situation," said landslide expert David Petley, Wilson Professor at Durham University, adding that aftershocks were an on-going worry.
"A large slide into the lake could cause an instant over-top situation. The dam is unlikely to survive this intact," he added in a Internet posting about the dam.
Soldiers are working long shifts on a diet of biscuits and instant noodles, with bulldozers and heavy machinery flown into the cut-off area by helicopter. A string of powerful aftershocks on Sunday and Monday have made the work even more challenging.
"Yesterday's rain and aftershock disrupted our work, but we are working against time to make up for it," Xu Qiangguo, an officer with a hydropower division of China's armed police, was quoted saying on Monday.
The government also airlifted two drilling machines to the dam in a bid to get more information on the area's geology.
Separately, the State Council Information Office said the death toll from the 7.9 magnitude quake had risen slightly to 69,142 as of midday Monday, with 17,551 others still reported missing. Some 374,065 people had been injured.