Something was buzzing in Staten Island's Tottenville neighborhood yesterday morning, and it had nothing to do with gossip.
A hummer of a swarm of bees -- at least 40,000 of them -- overwhelmed the backyard of 257 Barnard Ave. at about 11 a.m.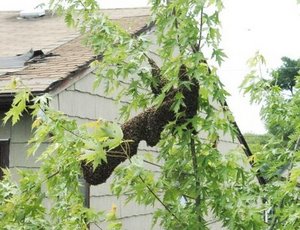 ©Michael Oates/Staten Island Advance
"All I heard was heavy buzzing, and when I went outside I saw thousands of bees circling my backyard," said Rose Cahill, whose home was the focus of the unwelcome guests. "I was just saying to myself, 'Well, what the hell do I do now?' "
Apparently, finding someone who can tackle large numbers of bees isn't so easy.
"We called 311 and they told us that since it was not public property, they would have the bees removed within 30 days," she said.
Mrs. Cahill and her neighbor, Maureen Dishuk, kept calling -- 911, the Parks Department, Animal Care and Control, various exterminators, the Staten Island Chamber of Commerce, the Staten Island Zoo, and then, finally, the Borough President's office, who put them on to a beekeeper.
"The amount of swarms this year is amazing, they really are booming," said beekeeper Chester (Chet) Crowl of Westerleigh. "But this is good for the general population -- even if it can be annoying -- the honeybee is responsible for pollinating over 80 percent of the fruits and vegetables we eat."
Bee swarms are nothing new to Crowl, but the recent surge has been something of a surprise, he said.
Two weeks ago, he was called to remove a swarm of bees in the middle of the Kmart shopping plaza in New Springville.
"In my entire life, I have never seen so many bees swarm in such a short amount of time," said Crowl. "I'm up to, like, 16 or 17 swarms this year."
He noted that swarms looking for new territory tend to occur in May and June, so "be ready for at least another month of it."
As for Mrs. Cahill, Crowl said, "With that size swarm, she is looking at easily 40,000 bees all at once, and they're all females."
"What happens is, during the early summer months, the hives get overpopulated, so the queen bee leaves," he said. "The queen bee must have gotten tired and decided to stay in (Mrs. Cahill's) backyard."
By around 6 p.m. the swarm had broken up and bees sailed through the air behind Mrs. Cahill's house, an intimidating sight. But about 15 minutes later, they regrouped as a swarm and left her yard.
"What happened is, the scout bees found a new place to live," said Crowl. "They probably found a hollow tree to nest in, and now . . . it's someone else's problem.
His advice to anyone who finds a bee swarm on his or her property: "Absolutely leave it alone."
"Leave it alone, and never spray it with water," he warned. "It will only make them really angry and will scatter them around the entire neighborhood. Call a professional."