Landslides caused by the Sichuan earthquake have blocked rivers and formed new, possibly unstable, lakes.
Satellite images taken by the Taiwan's National Space Organisation (NSPO) show one such lake forming in Beichuan County, one of the areas worst hit by the quake.
The top image was taken in 2006, showing the river in its normal state. The second and third images were taken after the quake.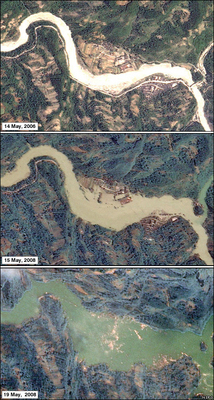 ©Formosat image © 2008 Dr. Cheng-Chien Liu, National Cheng-Kung University and Dr. An-Ming Wu, National Space Organization, Taiwan.