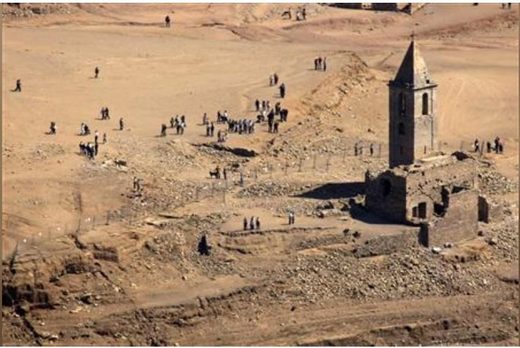 Perhaps the most striking image of Spain's drought, so severe it has forced Barcelona to ship in water, has been that of the underwater church which emerged from a drying dam.
For most of the past four decades, all that has been visible of the village of Sant Roma has been the belltower of its stone church, peeping above the water beside forested hills from a valley flooded in the 1960s to provide water for the Catalonia region.
This year, receding waters have exposed the 11th-century church completely, attracting crowds of tourists who stand gazing around it on the dusty bed of the reservoir.
Neighboring Vilanova de Sau is enjoying a tourist boom, its mayor Joan Riera says.
"Every time it's on television, a whole lot of people come," Riera told Reuters by telephone, adding that this was all very well but it had made it impossible to find a table in the town's restaurants: "They all want to eat at the same time."
Drying dams are causing problems still more serious in Barcelona, the region's glamorous capital, which has had to charter ships to bring in drinking water.
After proverbial April showers, reservoirs are now about 25 percent full but will have to provide for a hot, dry summer, so emergency measures may only have been delayed.
For now, the short-term outlook is tolerable. But officials said that without shipped water and a campaign to cut water waste, the city could face its first cut in domestic water supplies since 1953.
"If it doesn't rain and if we hadn't implemented solutions, then Barcelona would be facing supply cuts. But the signs are that work in progress and management measures will work perfectly," said city council environment manager Jordi Campillo.
MORE FREQUENT DROUGHTS?
The tanker vessel
Sichem Defender
docked at Barcelona on May 13 carrying 19,000 tonnes of water from the southern Catalan town of Tarragona: overall, ships will provide 6 percent of the drinking water for 5.5 million people over the summer, as authorities bring in 10 boatloads from Tarragona, Marseille, and a desalination plant in southern Spain.
The total cost is estimated at 40 million euros ($61.96 million), including 32.5 million for port infrastructure to handle the water.
Ships are a stopgap solution, and while they will quench citizens' thirst for a few months, authorities fear increasingly frequent drought around the Mediterranean might require more permanent measures.
A hosepipe ban has been in force for months in Spain's second city, fountains have been dry and arguments have broken out with other regions over how to share out increasingly scarce water.
The regions of Valencia and Murcia have threatened to complain to the Constitutional Court about a controversial 180 million euro pipeline from the river Ebro delta, due to supply Barcelona from October.
"It's an emergency measure to give drinking water to five million people who might not have it in a few months," said Spain's Deputy Prime Minister Maria Fernandez de la Vega.
A longer-term answer will be a desalination plant, billed as the biggest in the European Union, under construction on the outskirts of Barcelona and due on stream in May 2009.
The plant is just one of several planned or being built in Spain, which will be needed to offset the impact of global warming in coming years in the Mediterranean region, water experts say.
"It was already very important when it was planned but now, with the urgent drought, it has become indispensable," said Tomas Azurra, chief engineer at the plant at the estuary of the Llobregat river.
The plant, which is 75-percent funded by the EU, is being built by a consortium including water firm Agbar and Dragados, part of construction firm FCC. It will supply 20 percent of Barcelona's water.
MORE EFFICIENT
Stephanie Blenckner of the Stockholm International Water Institute said desalination plants were costly but affordable to European countries, and preferable to permanently diverting water from rivers such as the Ebro.
She added that countries like Spain needed to capture more rainwater in future, as climate change would exacerbate alternating periods of drought and heavy rain.
"The rain is the biggest resource we have and we can dispose of it all year round if we have sensible storage opportunities," Blenckner said.
She also predicted increasing tensions due to demand for water from the tourism industry, which accounts for about 11 percent of Spain's economy.
"Water will be essential for tourism and that will sharpen up social consequences, as it already has done in places like Morocco and Egypt," Blenckner said.
The World Bank said in April declining water quality has already knocked around 1 percent off gross domestic product in Morocco, Algeria and Egypt and almost 3 percent in Iran.
(Additional reporting by Jason Webb; Editing by Sara Ledwith)