Windsor, Colo. - A large tornado tore through several northern Colorado towns on Thursday, flipping over tractor-trailers, ripping roofs off buildings and killing at least one person.
The Weld County coroner's office confirmed one person was killed in the storm, which struck about 50 miles north of Denver. The office declined to provide details about how or where the person was killed.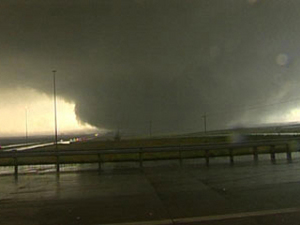 ©KUSA-TV
A massive tornado roars across northern Colorado at midday on Thursday.
The National Weather Service issued a tornado warning just after noon, and The Associated Press began fielding calls about a tornado touchdown soon afterward. The storm moved north-northwestward through or near the towns of Platteville, Milliken, Greeley and Windsor. Television footage showed homes and buildings with roofs missing and farm irrigation equipment crumpled.
Emergency personnel were trying to determine how many people were hurt, and how badly.
"We have every type of injury, broken bones, cuts, bruises, from everything from falling trees to broken glass hitting them," said Jolene Schneider, spokeswoman for the Windsor Fire Department. "Only thing we are trying to figure out now is how many and how severe."
Windsor, a farm town of about 16,000, appeared the hardest hit. Video footage showed a dark gray funnel perhaps a quarter-mile wide near the town with heavy hail and rain. At least one residential neighborhood in Windsor appeared to have suffered heavy damage.
"It passed right over us like a big, white monster," said 87-year-old Windsor resident Thomas Coupe.
Splintered wood, mangled metal and other debris cluttered roads, yards and agricultural fields. About 130 children at a daycare center in Windsor were reported safe after the storm passed through; playground equipment outside the center was damaged.
"My house is gone," said Pete Ambrose, a caretaker at a Weld County campground outside Greeley. "I lost my dog. I lost my cats. I lost my camper. I lost everything."
Windsor resident Liz Meyer, 65, said she heard thunder and hail and rushed with her dog into her basement. Her house wasn't damaged, but a 60-foot tree was uprooted from two blocks away and dumped near her home. "And look. It went into the street instead of into my house," Meyer said.
Parts of Interstate 25, the state's main north-south highway, and state Highway 85, an alternate route, were closed to traffic. The American Red Cross was setting up a shelter at the Windsor Community Center.
Some 60,000 customers lost power in the area, according to XCel energy.
A tornado warning also was issued for an area about 100 miles northeast of Denver, but there were no reported tornadoes. A funnel cloud was spotted near Longmont, about 30 miles north of Denver, but there were no immediate reports of damage.
Meanwhile, the National Weather Service issued a tornado warning Thursday afternoon for southeastern Wyoming.
State troopers responded to reports of vehicles turned over on Interstate 80 in Laramie, a dispatcher with the Wyoming Highway Patrol said.
On its Web site, the Wyoming Department of Transportation Web posted video showing a tractor trailer on its side and a boat that apparently had been blown off of a flatbed trailer on the interstate.
The Laramie Fire Department said it had received no reports of a tornadoes touching down in the area.