The Philippine disaster agency says the death toll from a tropical storm that battered the northern Philippines over the weekend has risen from 12 to 37.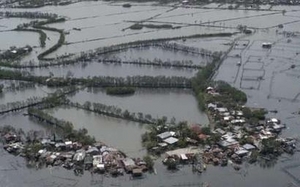 ©Reuters
Philippine Air Force aerial shot shows a rice field covered by a flood after Typhoon Halong hit the Pangasinan province, north of Manila, May 18, 2008. A tropical storm swirled out to sea off the northern Philippines on Monday after killing 12 people, destroying homes and flooding rice paddies, weather and disaster officials said. Picture taken May 18, 2008.
Most of the victims were hit by iron sheets or falling debris blown off houses after Tropical Storm Halong made landfall Saturday in Pangasinan province, northwest of Manila.
It sliced through the mountainous region with peak winds of up to 65 mph, dumping rains and triggering floods.
The National Disaster Coordinating Council said in Wednesday's report that a total of 16 people have been injured and one is missing.