SANTIAGO - The government on Wednesday declared the evacuated Chilean town of Chaiten off-limits for three months until it is no longer threatened by a cloud of hot ash from an erupting volcano.
The Chaiten volcano, six miles from the town that had been home to 4,500 people, started erupting on May 2 for the first time in thousands of years, spewing ash, gas and molten rock into the air.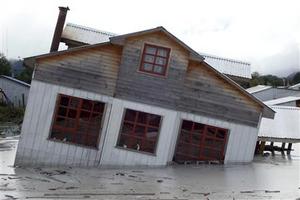 ©REUTERS/Stringer
A house is flooded by El Rio Blanco in Chaiten town May 12, 2008.
The column of debris, kept aloft by the pressure of constant eruptions, could collapse and smother Chaiten.
"The president has established a three-month period under which the ground-zero area will be maintained isolated," Defense Minister Jose Goni told reporters.
The cloud of ash above the volcano rose as high as 20 miles early in the eruption but now has fallen back to about 4.5 miles.
The eruption has not killed anyone, but thousands of people have been evacuated from within a 30-mile (48-km) radius of the volcano located 760 miles south of the capital Santiago.
Severe flooding has also hit the area around Chaiten as ash from the volcano swelled rivers and caused them to breach their banks.
Satellite images show a white stripe smeared across the southern part of South America. Much of the ash has drifted into neighboring Argentina, where some towns also have been submerged in ash.
Separately, Chile's National Emergency Office said it was monitoring the Peteroa volcano, some 125 miles south of Santiago, after it sent up clouds of vapor.
It said the vapor was normal, but specialists were being sent on Thursday to check for volcanic activity.
Chile's chain of some 2,000 volcanoes -- 500 of them potentially active -- is the world's second-largest after Indonesia.