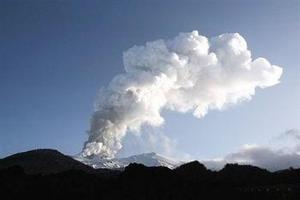 Mount Etna
The Etna volcano in Sicily rumbled back to life on Tuesday with a "seismic event" followed by a burst of ash, volcanologists said three days after minor eruptions shook the cone.
A "seismic event provoking a strong explosion was recorded Tuesday at 0424 GMT (6:42 am local) in parts of the peak of the volcano," the National Geophysics and Vulcanology Institute in Sicily's Catania region said in a statement.
The explosion on Etna, Europe's tallest active volcano at 3,295 metres (10,810 feet), was followed by a rain of ash on the southeast crater, "where significant gas emissions are occurring," the statement said.
The institute dispatched experts on Tuesday to the site, but "the phenomenon currently represents no danger to people or property," it said.
Saturday's eruption, accompanied by streams of lava, was also at the volcano's southeast crater.
The last eruption of Mount Etna was in November 2007, two months after another eruption forced a temporary closure of nearby Catania airport due to flowing lava and clouds of ash.
The last major eruption was in 2001.