A tropical cyclone has killed at least 351 people in Burma and damaged thousands of buildings, according to state television.
Parts of the Irrawaddy region were hit particularly badly, with three out of four buildings reportedly blown down in one district.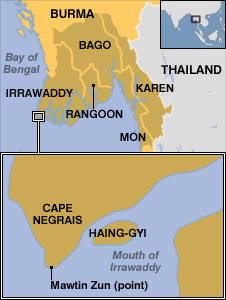 ©Unknown
Burma has declared Irrawaddy and four other regions, including the main city Rangoon, to be disaster areas.
Rangoon has been without power and water, its streets full of debris.
Winds of about 190km/h (120mph) battered the Irrawaddy, Rangoon, Bago, Karen and Mon regions.
The latest death toll of 351 includes at least 109 people who lived on Haing-gyi island, off the south-west coast, officials say.
About 20,000 homes have been destroyed and 90,000 people made homeless on the island alone, a government official said.
The death toll is expected to rise further, as the situation is remote areas becomes clear.
Military and police personnel have been carrying out rescue operations.
In Irrawaddy's Labutta township, 75% of buildings collapsed and 20% had their roofs ripped off, state TV said.
Cyclone Nargis has since moved towards Thailand where storm warnings have been issued. However, it appears to be lessening in force.
In Rangoon, internet and phone connections have been down since the storm drew near, making it difficult to confirm the extent of the damage.
Official media report that four people were killed and four vessels sank in the former Burmese capital's harbour.
[Click
here
to see video of damage done by cyclone]
One Rangoon resident described the damage in the city for the BBC Burmese service: "Everything was wrecked. Roofs of the houses and satellite dishes were blown away."
A Rangoon-based diplomat quoted by Reuters news agency described the city as an "utter war zone".
Anthony Craig, a regional official of the UN World Food Programme based in Thailand, said that judging from the damage caused to solid buildings in Rangoon, damage elsewhere was likely to be extensive.
"We're seeing a lot of trees down, a lot of billboards blown away, roofs of houses gone, so that is worrying when you consider the type of construction that is there, compared to the type of construction that is elsewhere," Mr Craig told the BBC.
A trishaw driver in Rangoon, who did not want to be identified, complained that the security forces were not doing enough to help.
"Where are all those uniformed people who are always ready to beat civilians?" he asked.
"They should come out in full force and help clean up the areas and restore electricity."