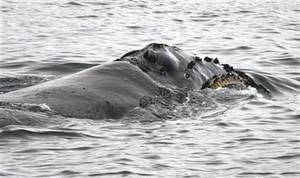 ©Bob Pitman / NOAA via AP
The North Pacific right whale, with a population estimated at between 50-100, relies on habitat off Alaska that could be opened to oil exploration.
Activists concerned about impact on right whales and Bristol Bay salmon
The Bush administration has proposed allowing oil and gas drilling in an area of the Bering Sea considered important for the recovery of the world's most endangered whale.
The proposal opening up 5.6 million acres off the Alaska coast to energy development was published Tuesday in the
Federal Register by the Minerals Management Service
.
Under the leasing proposal, the North Aleutian Basin lease sale would be held in 2011. Exploratory drilling could begin the next year.
The publication of the proposal marks the start of the process, which will involve a public comment period and months of gathering information for an environmental impact statement, said Robin Cacy, a minerals service spokeswoman in Anchorage.
"No decisions have been made on the sale. This is just the beginning," she said.
The area, which had been protected from drilling since 1990, is north of the Aleutian Islands near Bristol Bay. The administration lifted the ban last year.
The issuing of the proposal came on the same day that the National Marine Fisheries Service published its final decision reaffirming portions of the lease area as critical habitat for the North Pacific right whale.
The Center for Biological Diversity, which sued to get the federal government in 2006 to designate critical habitat for the North Pacific Right whales, is suing to shut down the Bering Sea lease sale.
According to the center, more than half of the proposed lease sale area is designated critical habitat for the whale - long believed to be on certain road to extinction.
Center spokesman Brendan Cummings said allowing drilling in the critical habitat is a bad omen for other endangered animals.
"It would completely eviscerate the protections that critical habitat are supposed to provide," he said. "If there is actual development - tanker traffic, drilling noise, industrial disturbance - it will turn an area that is relatively pristine into an industrial zone. The whale's grip on existence is so tenuous as it is that this will likely push it over the edge toward extinction."
The Sierra Club, for its part, emphasized its concerns about the potential impact on wild salmon runs in Bristol Bay.
"Bristol Bay represents a safe haven for salmon in the face of collapsing fisheries in California and the Pacific Northwest," it said in a statement. "If Alaska's fish are to survive rising temperatures, we must provide them with resilient habitats that are safe from other harmful development. Offshore drilling-with its pollution, noise, and risk of oil spills-would only add to the odds against salmon."
The Associated Press contributed to this report.