LONDON - An earthquake with a magnitude of 5.2 shook parts of Britain on Wednesday but officials said there were no reports of anyone being killed or serious damage.
The quake struck about an hour after midnight and many people in the capital London and other areas said they had been woken up by the tremors. Quakes are uncommon in Britain and Wednesday's was the strongest for nearly quarter of a century.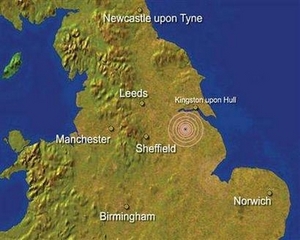 ©Reuters
In the northern English town of Barnsley, a man was injured in the pelvis when a chimney collapsed and plunged through the roof of his bedroom, said an ambulance service spokeswoman. The man was taken to hospital.
"(The quake) was really bad. I was fast asleep and woke up and the room was shaking," Jemma Harrison, who lives in the northwest English city of Manchester, told the BBC.
Soon after the quake occurred the U.S. Geological Survey (USGS) estimated the magnitude at 4.7, but the British Geological Survey later raised the figure to 5.3 before settling on 5.2.
The USGS said on its Web site the quake's epicenter was 205 km (127 miles) north of London and 80 km (50 miles) east of the major northern English city of Sheffield.
"We have no reports of injuries (in London)," said a police spokesman in the capital.
Police in the English county of Lincolnshire said some people had reported minor damage to their homes.
The quake was the largest to hit Britain since one with a magnitude of 5.4 in 1984.
"This is a significant earthquake for the UK and will have been widely felt across England and Wales," said seismologist Brian Baptie of the British Geological Survey.
(Editing by Ralph Gowling)