Dozens of villages cut off, flights cancelled due to cold spell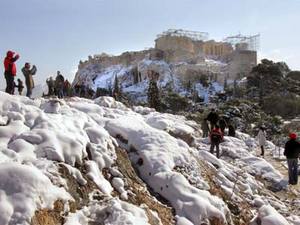 ©AP
Snow covered many parts of Greece, including the Acropolis in central Athens, yesterday. Flights were disrupted and tens of villages, mainly in central Greece's Evia and the Aegean islands, were cut off due to the snowfall, the result of two cold fronts moving south from Russia and Scandinavia. Authorities warned drivers to be more cautious today due to the icy conditions expected. Experts forecast improving conditions as of today.
A cold snap that hit Greece yesterday blanketed the country in snow, cutting off dozens of villages and grounding flights at Athens International Airport.
Temperatures fell to as low as -11 degrees (12 degrees Fahrenheit) in parts of northern Greece while in the capital snow fell steadily throughout the day.
Officials said that about 70 villages were snowed in late yesterday, mostly in Evia, central Greece and on the Aegean islands.
Athens International Airport closed down at about 5 p.m., cancelling domestic and international flights, and was not expected to re-open until 3 a.m. this morning.
The snowstorm, the result of two cold fronts moving south from Russia and Scandinavia, struck Athens on Saturday night.
Authorities had issued appeals for people to remain indoors but said some drivers ignored calls to take extra care on the country's road network and this had contributed to traffic problems.
"Drivers that decided to circulate without using anti-skid chains created additional problems," said a local government official.
"They slowed down traffic on some main roads by double parking in order to put on snow chains," he added.
The snowfall in the capital kept many Athenians indoors over the weekend, with normally busy central streets far quieter than usual.
Other villages across the country, including on the southern island of Crete, reported a number of problems with power and water supplies.
According to television reports, mountain villages near Iraklion on Crete and other small towns on the islands of Andros and Tinos had their power cut off since midday yesterday.
The snow is becoming more dangerous for drivers as it is turning to ice, authorities warned.
Schools in Athens will remain closed, but government officials said public services will operate as normal.
However, today's driving examinations will be cancelled.
The National Meteorological Service said it expects conditions to begin improving today.