Mysterious 'white nose syndrome' spreading at alarming rate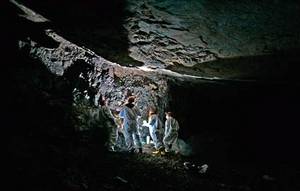 ©Mike Groll / AP
A team led by Alan Hicks, a wildlife biologist for the New York State Department of Environmental Conservation, looks for bats in an abandoned limestone mine in Rosendale, N.Y., on Feb. 7.
Rosendale, N.Y. - Bats in New York and Vermont are mysteriously dying off by the thousands, often with a white ring of fungus around their noses, and scientists in hazmat suits are crawling into dank caves to find out why.
"White nose syndrome," as the killer has been dubbed, is spreading at an alarming rate, with researchers calling it the gravest threat in memory to bats in the U.S.
"This is definitely unprecedented," said Lori Pruitt, an endangered-species biologist with the U.S. Fish and Wildlife Service in Bloomington, Ind. "The hugest concern at this point is that we do not know what it is."
A significant loss of bats is chilling in itself to wildlife experts. But - like the mysterious mass die-offs around the country of bees that pollinate all sorts of vital fruits and vegetables - the bat deaths could have economic implications. Bats feed on insects that can damage dozens of crops, including wheat and apples.

"Without large populations of bats, there would certainly be an impact on agriculture,"
said Barbara French of Bat Conservation International of Austin, Texas.
White nose syndrome has afflicted at least four species of hibernating bats, spreading from a cluster of four caves near Albany last winter to more than a dozen caverns up to 130 miles away.
Alan Hicks, a wildlife biologist with the New York Department of Environmental Conservation, said he fears a catastrophic collapse of the region's bat population and is urgently enlisting experts around the country to find the cause.
It is not even clear if the fungus around the bats' noses - something scientists say they have never seen before - is a cause or a symptom. It may be a sign the bats are too sick to groom themselves
, said Beth Buckles, a veterinary pathologist at Cornell University.
The die-offs could be caused by bacteria or a virus. Or the bats could be reacting to some toxin or other environmental factor. Whatever it is, afflicted bats are burning through their winter stores of fat before hibernation ends in the spring, and appear to be starving.
The Northeast has generally had mild winters in recent years. But Hicks said he doubts that is the culprit in some way, since there are no reports of large die-offs in warmer states.
Nor are there any known links between what is wiping out the bees and what is killing the bats. The cause of the bee deaths is still a mystery, though scientists are looking at pesticides, parasites and a virus not previously seen in the U.S.
Researchers said there is no evidence the mysterious killer is any threat to humans. Scientists venturing into the caves wear hazardous-materials suits and breathing masks primarily to protect the bats, not themselves.
Hicks said it is possible that a cave explorer introduced the problem in the Albany-area caves and that it spread from there. "It could have been some caver in Tanzania with a little mud on his boot and a week later he's in a cave in New York," he said.
New York officials are asking people to stay out of bat caves in case humans are unwittingly spreading the problem. The U.S. Fish and Wildlife Service is asking people not to enter caves with gear or clothing used in any New York and Vermont cave within the past two years.
The first inkling of trouble came in January 2007, when a cave explorer spotted an unusual number of bat carcasses around the mouth of a cave in the hills west of Albany. Within a month,
people in the area were calling in with reports of bats flying outside in the middle of the day.
"We didn't know anything other than bats were coming out and they were just dying on the landscape," Hicks said. "
They were crashing into snow banks, crawling into wood piles and dying.
"
By winter's end, 8,000 to 11,000 bats were presumed dead in the four caves. The mystery affliction has spread much farther this winter.
Death counts are not in yet for this winter since afflicted bats die slowly. But Hicks said there are 200,000 or more bats hibernating in caves where white nose has been detected.
Hicks recently led a team of scientists into an abandoned mine in this Hudson Valley town about 80 miles north of New York City. He directed his headlamp on a cluster of seven brown bats, smaller than mice, hanging high on the limestone wall. Four had the telltale white flecks on their muzzles.
He tapped one of the afflicted bats with a long stick, and it fell, already dead. Another groggily spread its papery wings on Hicks' gloved hand. The sickly bat was put into a cardboard takeout-soup container to be put to death and studied, since it was doomed anyway.
A group of Indiana bats, a federally protected endangered species, was spotted hanging lower down in the mine for cooler air, a common strategy for sick bats.
Hicks whispered grimly: "These guys are toast."