Survivors saw relatives swept away by huge waves or buried by debris after a landslide hit a rain-swollen river, triggering what officials called a "mini-tsunami" that wiped a hamlet off the map and left at least 16 people missing.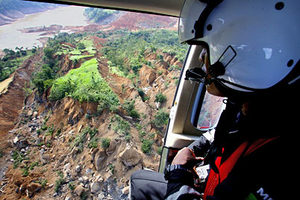 ©Alfredo Estrella, AFP / Getty Images
A helicopter pilot surveys the damage to San Juan Grijalva in the Mexican state of Chiapas Monday after a landslide. The area is already reeling from last week's floods.
Residents of San Juan Grijalva told
The Associated Press
on Monday they had been awakened by a rumbling roar and the sound of rocks rolling down from surrounding mountaintops on Sunday night, almost a week after massive flooding sent rivers over their banks in the southern Mexican states of Chiapas and neighboring Tabasco.
"It was a roar, like a helicopter was passing overhead," recounted farmer Domingo Sanchez, 21. "We didn't know what was happening, and then we went outside, and there were cracks opening the earth," he said, apparently recounting the initial collapse of a nearby hillside into the river. "We ran up the hill ... but soil kept coming down on us."
For the next several hours, Sanchez, his mother, his wife and a cousin fought for their lives in a valley where the only salvation lay in getting to higher ground.
Sanchez reached a hilltop just in time to look across the valley and see a landslide cover the home of his grandparents. He believes at least nine of his relatives were buried.
San Juan Grijalva, 45 miles southwest of Villahermosa, is near the border of heavily flooded Tabasco state and linked to the same river systems. The landslide was the latest damage caused by a week of flooding and heavy rains that has left 80 percent of Tabasco under water, destroying or damaging the homes of about half a million people. At least 20,000 people remain trapped on rooftops across the state.
David Sanchez, 22, a cousin of Domingo, described the events he saw from his house in a different part of the village that once was home to about 600 people.
David Sanchez described two distinct waves - the first of which swept his mother about 200 yards downstream before he could rescue her. "It was an irresistible wave," he said, describing the water pushed down from the initial impact of the landslide.
After climbing up a hillside to safety, in a moment of calm he and three friends briefly descended to rescue some possessions when the second wave - apparently the release of water briefly dammed up by the landslide - swept down the valley.
"It swept away everything, trees, houses, everything," David Sanchez said.
Chiapas state Gov. Juan Sabines, who visited the scene, described one of the waves as a "mini-tsunami" and noted "this village practically disappeared."
"A mountain fell into the river, blocking the River Grijalva ... and created a wave ... that has flattened the town," Sabines told Mexican radio.
Helicopters searched the surrounding hills to rescue residents who fled to higher ground.
Chiapas officials and the federal Interior Department said 16 were missing. No bodies were immediately found.
On Monday, in the Tabasco state capital of Villahermosa, officials readied huge pumps to suck water from the inundated streets while rescuers struggled to reach thousands still stranded days after one of the worst floods in Mexico's history.
President Bush shared his sympathy over the floods and suffering Monday with Mexican President Felipe Calderon.
U.S. Ambassador to Mexico Tony Garza said the U.S. had pledged $300,000 in emergency assistance to Tabasco and Chiapas.
"Americans know only too well the horrible impact of such natural disasters on the lives of individuals and communities, and we are anxious to join the international community in providing assistance to our neighbors," Garza said.
After Hurricane Katrina struck the U.S. in 2005, Mexico sent a convoy of about 200 unarmed soldiers and medical personnel across the border with portable kitchens and water treatment equipment to aid recovery efforts.
Officials also saw some signs of hope as the Grijalva and Carrizal rivers, which had risen as much as six feet above normal levels, began to subside slightly Monday, as did storm tides in the Gulf of Mexico.
But tens of thousands of hungry and sick storm victims still awaited food and aid.
Associated Press
writer Manuel de la Cruz contributed to this report from Candelaria, Mexico.