The first storm of the season sent boulders crashing into two O'ahu homes yesterday, caused power outages across much of the island and triggered sewage spills totaling nearly 2 million gallons.
And more rain is on the way.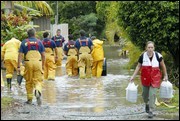 ©Deborah Booker / The Honolulu Advertiser
Firefighters push a pump through the floodwater to drain driveways of homes on Kalaheo Avenue in Kailua.
Showers are forecast for the rest of the week, and the National Weather Service said another thunderstorm could hit today.
The weather service issued a series of advisories:
- A flash flood watch for all Islands through tomorrow.

- A high-surf warning for the south shore of all Islands through 6 p.m. today, with the potential for south shore waves of 10 to 15 feet.
State health officials warned people to stay away from floodwater that could be contaminated. The largest sewage spill was at Pearl Harbor, where the Navy said an estimated 1.97 million gallons of wastewater entered the harbor after a power surge caused an equipment malfunction.
Through last night, O'ahu and Moloka'i were the only islands that received a sustained downpour. But no injuries were reported from the rain or from the lightning that flashed across the sky early yesterday.
"We were lucky," said John Cummings, spokesman for the city's Department of Emergency Management. "If we have some days of semi-dry weather, we'll be good. As long as we have time to drain, we'll be good."
Yesterday morning's lightning and thunder were caused by a kona low-pressure weather system out of the north that moved southeast, passing from Kaua'i to O'ahu to Maui.
O'ahu took the brunt of the storm and tens of thousands of Hawaiian Electric Co. customers intermittently lost power.
KHNL and its sister TV station, KFVE, went off the air shortly after 8 p.m. after losing power. Electricity was restored and both stations began broadcasting about 8:50 p.m.
Oceanic Cablevision customers lost TV, Internet and phone service at 9:57 p.m. after its main transmission facility in Mililani lost power about 9:30. The facility's backup generator failed, and it stopped transmitting when its backup battery power ran out, said Norman Santos, Oceanic vice president of operations.
TV service resumed at 10:20 p.m., and the company was trying to get Internet and phone service back up before midnight.
BOULDERS TUMBLE DOWN
On 10th Avenue in Palolo Valley, a boulder measuring about 4 feet by 3 feet by 2 feet rumbled through a bedroom wall and crashed onto the bed of a 14-year-old girl, who had uncharacteristically awakened moments before.
Shirley Neely said her daughter normally would have been asleep when the boulder tumbled down a steep hill behind the home around 9:45 a.m. and trampled brush and garden pots before crashing through a wall.
"It's like some Universal Studios movie," said Neely, who had just moved into her grandfather's house two weeks ago with her husband and daughter. "You hear about these things happening, but you never think it's going to happen to you."
The Neelys were so shaken that they moved out yesterday to live with another relative until they find their own place.
Around 2 a.m. yesterday, another 4-foot boulder crashed into the rear of a house on Hao Street in upper 'Aina Haina while a man inside watched television.
The boulder damaged a window, a hollow-tile wall and part of the roof.
"Glass was sprayed everywhere," said a female resident who did not want to be identified. "We're trying to put up a tarp on the roof to keep the rain from dripping into the house."
On Tantalus, a landslide sent 2- to 3-foot mounds of dirt onto Maunalaha Road, cutting off three homes on Round Top Drive for about three hours.
No houses were damaged. But the slide left residents wondering what else could happen during the rest of the rainy season.
"It's kind of like a test," said Sally Moses, who lives on Maunalaha Road. "It's a real worry."
REPORTS OF FLOODING
In a 12-hour period, Waimanalo saw 7.3 inches of rain and Mililani had 5.6 inches. A rain gauge in Punalu'u recorded 3 inches of rain per hour.
Reports of flooded homes came in from across O'ahu, including Nanakuli and Waimanalo. Mud fell on Kamehameha Highway near Kualoa Park and near Kipapa Gulch, forcing temporary closures.
The deluge lasted 10 hours and unleashed millions of gallons of rain that overwhelmed storm drains and wastewater treatment plants. State health officials warned people to stay away from floodwater that could be contaminated with overflowing cesspools, animal waste, pesticides and flood debris.
The Navy said a power surge at about 8 a.m. caused the Pearl Harbor wastewater collection system's main lift station to go offline. That caused sewage to spill from manholes at Dry Dock No. 4 and at the intersection of South Avenue and Lake Erie.
The Navy brought the lift station back into operation about 1:30 p.m. and posted warning signs along the Pearl Harbor and Hickam Air Force Base waterfront.
The Wahiawa Wastewater Treatment Plant overflowed with 5,000 gallons of sewage yesterday and 11,200 more gallons of sewage overflowed from a manhole at Keolu Drive and Hele Street in Kailua.
City officials did not know how much sewage spilled from another overflowing manhole on 'Olepe Loop near the Waimalu Wastewater Treatment Plant.
Along with the sewage spill, Kailua had plenty of other problems.
Fifteen to 20 homes flooded on the mauka side of Kawailoa Road next to Ka'elepulu Stream, which overflowed its banks.
HIGH-SURF WARNINGS
Hawaiian Electric Co. crews yesterday were busy restoring power across O'ahu, from Wai'anae to Wahiawa and Hawai'i Kai. HECO spokeswoman Sharon Higa reported these trouble spots:
- An estimated 11,000 customers in central Honolulu were without power yesterday evening. Included were problems in Nu'uanu, Pauoa, 'Alewa Heights, Kalihi, Makiki and Downtown.

- Nearly 5,000 customers in Mililani temporarily lost power yesterday morning. "Central O'ahu seemed to be hit the hardest," Higa said early yesterday.

- Some 5,600 customers around the Enchanted Lake Shopping Center and in other parts of Kailua lost power just before 3 p.m.

- Other areas with blackouts included Wai'anae, Waialua, Kunia, Village Park, Pearl City, Ala Moana and Hawai'i Kai.
The outages were believed to be weather-related, Higa said, and may have been caused by branches falling on power lines or water flooding underground equipment.
The weather service issued a high-surf warning through 6 p.m. today for south-facing shores for all Islands.
A high-surf warning means there are dangerous swimming conditions with deadly rip currents. Swimmers and surfers are advised to stay out of the water.
The weather service also warned boaters that the swell could cause harbor surges.
"A south swell like this is pretty unusual for this late in the year," said John Bravender, a weather service meteorologist. "Usually south swells are in the summer. A high-surf warning of 15 feet for the south shore is pretty unusual for any time of the year."
The city closed the Waipi'o Soccer Complex at 7 a.m. yesterday for all soccer games, but the University of Hawai'i Wahine soccer match was played as scheduled in the evening. The game, however, was called with about 15 minutes remaining with UH holding an insurmountable lead.