A possible pause to the heavy rain that has caused widespread flooding on Queensland's Sunshine Coast could stop the worst fears of rescuers from being realised today, but residents have still been evacuated from at-risk areas after the region was bucketed in recent days.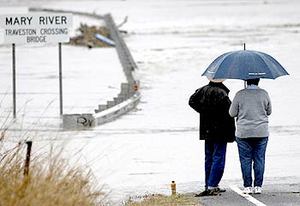 ©John Wilson
Cut off ... Sunshine Coast residents look at the flooded Mary River.
While the flooding is now forecast to be less severe today than earlier feared, the wild weather has brought huge swells to the Gold Coast and Sunshine Coast, forcing beaches there to be closed.
A 21-year-old man was taken to a Brisbane hospital with spinal injuries after bearing the full force of the swell while boogie boarding at Kirra Beach on the Gold Coast.
The State Emergency Service has received 250 calls for help overnight as Sunshine Coast residents struggled to save homes and business from flooding.
The Bureau of Meteorology today said that a record-breaking 700 millimetres of rain had fallen on the Sunshine Coast and Wide Bay regions since Thursday.
The bureau said it expected the rain to ease later today but the authorities remain on alert after the one-in-100-year deluge caused flash-flooding, forcing dozens of people to be rescued from homes and cars.
The break in the weather is expected to help prevent major flooding, but residents have been pulled from areas still considered as potentially lying in the floodwaters' path.
"The caravan park at Noosaville has been evacuated and low lying areas of Noosaville but it should not be too bad," Emergency Management Queensland spokesman Bob Bundy said.
However flood waters are expected to rise in some parts of the Sunshine Coast by about 300mm at the next high tide.
"It is a bit of a waiting game," he said.
"We are continuing to sandbag and be prepared for what could happen."
Barrier
At least 1500 sandbags were issued to stop water entering homes and businesses in Noosa shire yesterday after the Noosa River bursts its banks at Tewantin.
One man was rescued by fire and rescue officers from a four wheel-drive when Beddington Rd, Noosa, flooded late yesterday. The floodwaters are expected to peak with the high tide between 7pm and 8pm today.
At Gympie 8000 people camping at the Gympie Muster event have been stranded with roads to and from the area closed.
Most damage had been caused by heavy rainfall dislodging trees weakened by the prolonged drought in the still-rising Mary Valley catchment - where the controversial Traveston Crossing Dam is planned.
The Bureau of Meteorology has forecast minor to moderate flooding downstream of Kenilworth to Gympie, with major flooding expected along Tinana Creek during the weekend.
Flood levels in the Gympie area will remain high during Saturday before falling on Saturday night, the bureau predicts.
Electricity supplies have now been restored to more than 14,000 homes in southeast Queensland after Thursday's storm.
The torrential rains have brought some welcome relief to dams, however.
Yesterday Queensland Water Commission said it was delaying the introduction of level 6 water restrictions by at least two months after the Wivenhoe, Somerset and North Pine dam levels crept back up to 17 per cent.
They are expected to hit 19 per cent in the coming days as the rainwaters flow into the dams.