Two storm systems colliding along the nation's midsection set off a spate of weather warnings from Colorado to Ohio as the deadly combination moved toward the Great Lakes on Wednesday.
Twenty-five people have been killed, mostly from flooding, according to media reports.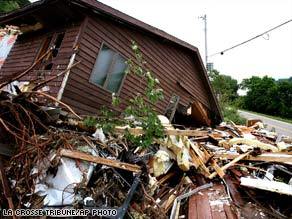 ©La Crosse Tribune/AP
The home of Lynn and Sharon Parding lies in ruin along Highway 26 north of Brownsville, Minnesota, Wednesday.
Roads have been closed or washed out, governors have declared states of emergency and thousands of homes have been damaged or destroyed.
"Mother Nature has been really cruel to our state the last four or five days," said Wisconsin Emergency Management spokeswoman Lori Getter. "For many of these people, they've lost everything."
Compounding problems are the myriad closed and washed-out roads, which are impeding rescue efforts and thwarting attempts to deliver water and other supplies to the hardest-hit areas, Getter said.
Gov. Jim Doyle has declared several counties disaster areas, and the Wisconsin National Guard is working to clear some of the roads left blocked or underwater after 16 inches of rain fell in some parts of the state earlier this week.
In Madison, Wisconsin, a lightning strike Wednesday downed power lines, which fell onto a flooded street and killed a child and two adults who were standing in the water, the city's fire department said.
In Wisconsin's Kenosha County alone, the damage tally for residences, businesses and infrastructure is more than $30 million, according to WISN-TV. Of that, almost $14 million is road damage.
To add to the misery, up to two more inches of rain fell overnight in parts of Wisconsin, a state where the flooding has already caused mudslides, derailed a train, wrecked homes and forced some residents to seek shelter or higher ground, WISC-TV reported.
"It's really awe-inspiring to see how much damage has been done and what this water has done," Doyle told WISC. "We've really seen in these counties that everyone pulled together. Everybody knew what they were supposed to do. They were well-drilled."
The American Red Cross said that in neighboring Minnesota, about 4,200 homes were affected by the weather, and nearly 600 of those homes are destroyed or have major damage.
Also in Minnesota, the state Pollution Control Agency reported it was working to clean up more than a dozen fuel spills in people's houses. The agency expects the number to climb as people return home.
The state Department of Agriculture, meanwhile, was sending officials to the Rushford area, about 130 miles southeast of Minneapolis, after receiving reports that 1,500 turkeys had been killed.
The National Weather Service predicted record flooding in northwest Ohio, where Gov. Ted Strickland has declared emergencies in nine counties, WHIO-TV reported.
Near Oklahoma City, Oklahoma, three high school athletes running on a trail near a flooded lake fell into the water: Two were rescued, but one disappeared and is missing, KOCO-TV reported. Fire officials told the station the search for the teenager is no longer a rescue operation, but a recovery effort.
Parts of Texas were still reeling after remnants of Tropical Storm Erin hammered the state last week.
Rain was still falling and flood warnings were in effect in the south-central portion of the state as San Antonio residents attended a City Council session to express concern about the response to the flooding.
"Who is going to fix our homes?" resident Anita Eakman asked, according to KSAT-TV. "Don't you think that after this happened that somebody should have been out here?"
In Clare, Iowa, homeowners said they have seen more than a foot of rain since Friday night. Photo View photos from the flooding »
"I was going to put a sign out that said, 'House boat for sale, lower deck has built-in swimming pool,' " Tracy Wilson told KCCI-TV.
Residents along the Des Moines River near Fort Dodge were urged to evacuate as water neared the tops of levees north of town. The flood stage is 10 feet, and the river was at 14 feet -- and rising -- Wednesday morning, Webster County Emergency Management Coordinator Tony Jorgenson told KCCI.
In Omaha, Nebraska, several neighborhoods remained without power Wednesday morning. High winds toppled trees and power lines across the northeast section of the city Monday, leaving 22,000 people without electricity.
About 300 were still without power Wednesday afternoon, KETV reported, but Omaha Public Power District spokesman Jeff Hansen said it should be fully restored by Wednesday evening.
Tiffany Peak had to close her home daycare center because she didn't have power. She told KETV that she spent the day guarding power lines in her yard so children wouldn't play with the deadly cables.
"The little kids were swinging from the power line in the tree," Peak said.
Clean-up crews are doing all they can as they work 12-hour shifts, but heavy rain Wednesday hampered their efforts, city officials told KETV.
Eight dead as floods plague central United States
Reuters
Rivers from Nebraska east to Ohio climbed out of their banks on Wednesday, swollen from thunderstorms that soaked the central United States for days and killed at least eight people.
The situation appeared to be worsening in Ohio where 21 counties battled high water, with officials declaring a state of emergency in nine of them in the north-central part of the state.
Showers and thunderstorms were forecast in that area and in general across the region for much of the week as a front stalled over the Midwest, setting up continued thunderstorms as cold air clashed with moisture-laden air from the Gulf of Mexico.
More than 100 people were being evacuated from Findlay, Ohio, with fire and rescue crews using boats to pull people from flooded homes and businesses, Ohio Emergency Management Agency spokesman Tom Hunter said.
Cars were submerged and blocks of streets were under water in several towns, and hundreds of residents had been moved to shelters in nearby counties.
No injuries have so far been reported, Hunter said.
"This is the worst flooding many of these communities have seen in 30 or 40 years and many, many people will have to rebuild homes and lives. Our hearts go out to the families," he said.
In Iowa, Gov. Chet Culver issued disaster declarations for five counties mostly in the northwest part of the state, allowing state resources to be deployed to local communities.
"Some locations are even measuring rain by the foot," the National Weather Service in Des Moines said on Wednesday as it issued a flood warning for parts of Iowa.
Areas of southeastern Minnesota and southern Wisconsin were among the hardest hit. Minnesota counted seven dead in storms that began last weekend, with more rain there overnight. Wisconsin issued additional flood warnings. One person was killed in Iowa.
Flood or flash flood warnings also were issued for parts of Nebraska, Illinois and Indiana.
Parts of Oklahoma and Texas were cleaning up from unrelated flooding that killed more than two dozen people over the weekend after the remnants of Tropical Storm Erin moved through the area.
Oklahoma Gov. Brad Henry on Wednesday asked the White House to declare three counties in his state disaster areas.
"What hit the state last weekend was essentially a small hurricane, and it devastated many communities throughout the state," he said. "It is critical that we do everything in our power to see that they receive the help they need."
Storms damaged nearly 500 homes in the three Oklahoma counties alone, including 42 that were destroyed and 192 that sustained major damage, he said.

(Additional reporting by Andrea Hopkins in Cincinnati)