A California blaze burning since early July grew to be the second-largest state wildfire in modern history on Tuesday, officials said as firefighters partly blocked it by a firebreak.
Even as crews made gains in the Santa Barbara County backcountry, others battled a new blaze in canyon lands east of Los Angeles and another in mountains outside Palm Springs.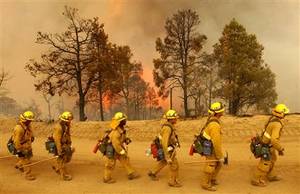 ©Rob Varela / www.venturacountystar.com
A Ventura County fire crew backs down a bit as flames from the Zaca fire approach a fire break north of Ojai, Calif., on Monday.
The Santa Barbara County wildfire has blackened 345 square miles in Los Padres National Forest since starting July 4. It was 77 percent contained Tuesday.
The state's biggest wildfire was a 2003 fire near San Diego that burned more than 426 square miles, destroyed 4,847 structures and killed 15 people.
Also Tuesday, residents of a Montana subdivision were allowed to return home as authorities said an 800-acre wildfire that had destroyed two homes was under control.
"There's just smoke in a few places but the fire is out," said Jim Kraft, emergency services director for Yellowstone County.
Crews save at least 50 homes
Mop-up efforts were expected to continue for the next couple of days in the 300-home subdivision near Billings where two homes and a church cabin were destroyed by the fast-moving fire Sunday night and early Monday morning.
Several outbuildings and vehicles also were lost, but authorities said crews saved about 50 homes that otherwise would have burned.
The cause of the fire remained under investigation, said Jack Conner with the federal Bureau of Land Management.