A 19-metre (62-foot) whale was found dead on abeach in northwest France on Wednesday, police said.
"It was a fin whale that died recently," said Jean-Yves Le Clech, a marineexpert from the nearby town of Brest. "When there are storms, the currents caneasily push the bodies onto the coast."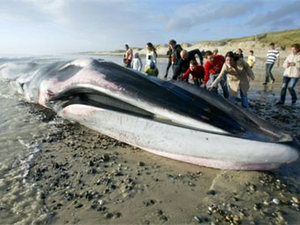 ©AFP
Scientists will take samples from the whale on Thursday to determine thecause of death before its body is taken from the beach and disposed of.