Tropical Storm Erin formed Wednesday in the Gulf of Mexico and headed toward Texas, threatening to bring downpours to a state that already has had one of its rainiest summers on record.
Gov. Rick Perry ordered emergency vehicles and personnel, including National Guard troops, to the Harlingen and Corpus Christi areas.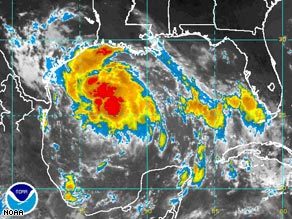 ©NOAA
NOAA satellite imagery shows Tropical Storm Erin intensifying Wednesday morning in the Gulf of Mexico.
"Because storms have saturated much of our state this summer, many communities in this storm's projected path are at high risk of dangerous flash flooding," Perry said in a statement.
As the storm's outermost bands of rain touched the Texas coast early afternoon, homeowners had already started heading to hardware stores in the Rio Grande Valley for supplies to board up their houses.
"They know the drill, they're familiar with it," said Ruben Dimas, assistant store manager at a Home Depot in Harlingen.
Cameron County Judge Carlos Cascos, the top elected executive for the state's southernmost county, urged residents to evacuate trailers and mobile homes on South Padre Island, but he said the storm appeared to have veered northward and that few vacationers seemed nervous enough to leave.
Out in the Gulf, Shell Oil Co. evacuated 188 people from offshore facilities in the storm's path.
Erin formed late Tuesday as the fifth depression of the Atlantic hurricane season and was upgraded to a tropical storm Wednesday when its maximum sustained speed hit 40 mph, the National Hurricane Center said. The threshold for tropical storm status is 39 mph.
At 2 p.m. EDT, the storm was centered 210 miles east of Brownsville and about 260 miles east-southeast of Corpus Christ, according to the National Hurricane Center in Miami. Its top wind speed remained at 40 mph.
Erin was moving toward the west-northwest at around 12 mph and was expected to continue following that track for at least 24 hours. If it doesn't change course, it could be centered near the lower or middle Texas coast on Thursday, the center said.
Erin was likely too close to land to gain enough wind speed to become a hurricane, with sustained wind of at least 74 mph, said National Weather Service forecaster Tony Abbott in Brownsville.
A tropical storm warning was posted for the Texas coast from Freeport, south of Houston, southward to the border. Mexico issued a tropical storm watch for its northwest coast from Rio San Fernando northward. A tropical storm watch means that tropical storm conditions are possible within 36 hours.
Three to 8 inches of rain was possible along the middle Texas coast, the hurricane center said.
A series of storms earlier this summer poured record rainfall across Texas and parts of Oklahoma and Kansas, with one July storm dropping 17 inches of rain in 24 hours. Flooding was widespread across all three states. It brought Texas out of drought status for the first time in more than a decade.
At least 16 deaths have been blamed on flooding since mid-June.
In the Pacific, Flossie was downgraded from a hurricane to a tropical storm after sideswiping Hawaii's Big Island with less rain and wind than expected.
Flossie lost its hurricane status as its maximum sustained wind dropped below 74 mph. By 11 a.m. EDT, the storm's top sustained wind was down to 50 mph and it was expected to continue weakening. The storm was about 270 miles south of Honolulu, moving west at about 15 mph.
Elsewhere, Tropical Storm Dean strengthened but was far out in the Atlantic. It was moving west at about 20 mph but meteorologists said it was too early to tell where the storm will go.
At 11 a.m. EDT, the storm was centered about 1,045 miles east of the Lesser Antilles in the Caribbean. Its top sustained wind speed had reached 60 mph, up from 40 mph on Tuesday. Forecasters said it could become a hurricane by Friday.
Hurricane specialists expect this year's Atlantic hurricane season - June 1 to Nov. 30 _to be busier than average, with as many as 16 tropical storms, nine of them strengthening into hurricanes. Ten tropical storms developed in the Atlantic last year, but only two made landfall in the United States.