HONOLULU - Hurricane Flossie strengthened to a Category 4 storm Saturday as it spun more than 1,000 miles south of Hawaii.
The hurricane could pass by Hawaii late Tuesday or early Wednesday, forecasters said, but by then cooler waters should weaken Flossie considerably to a tropical storm.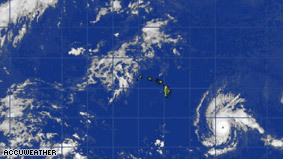 ©Accuweather
At 5 p.m. EDT, Flossie had intensified with maximum sustained winds near 135 mph about 1,035 miles southeast of Hilo, Hawaii.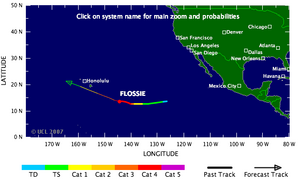 ©TSR
Flossie as of 12 Aug, 19:13 GMT
"Flossie continues to be an impressive system," the Central Pacific Hurricane Center said in a statement.
The storm, with gusts of 161 mph, was expected to weaken later in the day as it passed over cooler waters. It was traveling west at about 12 mph.
Jeff Powell, lead forecaster at the National Weather Service in Honolulu, said a "ramp up" of surf on the Big Island was expected late Monday.
The island's southeastern shores could see waves of 8 to 12 feet, forecasters said, with the surf rising during the day Monday and peaking Tuesday. The island's South Point is the southernmost area of the United States.
State civil defense officials urged residents to be prepared because of the unpredictable nature of hurricanes. A one or two degree direction change, they say, could make a big difference.
"If this thing fizzles out, so what? Everybody should still be prepared," said Dave Curtis, spokesman for the state Civil Defense Agency.
The last time a hurricane hit Hawaii was in 1992, when Iniki ravaged Kauai, killing six people and causing $2.5 billion in damage.
Hurricane season runs from June 1 to Nov. 30. In May, forecasters predicted that Hawaii and the rest of the central Pacific face a slightly below-average hurricane season, with just two or three tropical cyclones expected because of lower sea surface temperatures.
The islands get an average of 4.5 tropical cyclones a year and one hurricane about every 15 years. Last year, the central Pacific had five tropical cyclones after the National Oceanic and Atmospheric Administration predicted two to three.
On July 21, a tropical depression moved past the Big Island, bringing a few inches of rain to the parched island but no major problems. Cosme, the year's first Pacific tropical cyclone, reached hurricane status for a day before it weakened.