A sharp summer storm and galeforce winds swept across Finland on Tuesday. Following the storm, trees falling on power lines left thousands of households without electricity in various parts of the country. Still last night, several homes in the municipality of Nurmijärvi in Southern Finland faced power cuts caused by the gales.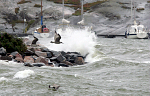 ©Helsingin Sanomat
In the Gulf of Finland, the winds recorded reached a speed of as much as 23 metres per second off Hanko, while the readings recorded by the Helsinki lighthouse were gusting as high as 28 metres per second.
Moreover, some high-speed ferry services between Helsinki and Tallinn were cancelled and the vessels remained in the Finnish ports because of the rough sea.
Linda Line cancelled all Tuesday services, while Tallink cancelled only the services of its Autoexpress 2. Larger vessels needed the aid of tugs to get into their moorings.
According to the Coast Guard, no serious damage occurred, while boat traffic was understandably not very busy.
Elsewhere in the country the winds were strong, even though they did not reach gale force even in the Gulf of Bothnia. However, the heavy rain flattened the grain crops in several places.
In Eastern Finland the strong and occasionally gusty wind did not cause much damage. Howeverr, some thousand clients of Savon Voima, the provincial energy supplier in the Kuopio region, were without electricity still last night. In addition, a number of boats sank or went missing.
The winds were expected to abate gradually during the evening and the night. On Wednesday, the wind could still be strong in inland waters, but it is not expected to pose a danger of damage any more.
According to the Finnish Meteorological Institute, the weather will turn warmer at the end of the week. Sunny weather including even hot spells is forecast for the major part of the country, excluding Lapland.
Strong summer storms occur in Finland normally only every second year on average, and in July they are even less common.