Chantal's quick two-step with eastern Newfoundland Wednesday likely caused millions of dollars in damages, officials say.
Post-tropical storm Chantal dumped up to 150 millimetres of rain in places on the eastern third of the Island, flooding towns and and washing out dozens of roads.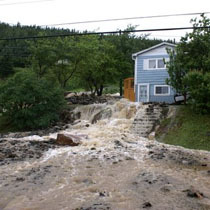 ©Tom O'Keefe/CanWest News Service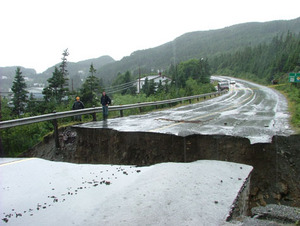 ©Tom O'Keefe/CanWest News Service
Onlookers survey the damage in Dunville, Newfoundland.
One driver was lucky to be alive after he unknowingly drove over a section of road, near Placentia on the southern Avalon Peninsula, where the pavement was intact but the culvert beneath it had washed away.
The road collapsed under the car's weight and the car plunged into a gap six metres across and six deep caused by the raging brown water.
The man, a welder who was on his way to St. John's for a flight to Fort McMurray, Alta., received only minor injuries.
Bill Hogan, mayor of the hard-hit town of Placentia, said Wednesday's storm was the worst in at least 40 years. He described one home where water was flowing in one door and out another.
"I've never seen anything like it, and I've seen it pretty bad here, I'll tell you that," Hogan said. "It's just havoc."
At least a half-dozen roads in his town were wiped out and will have to be rebuilt, Hogan said, at a cost of between $1 million and $2 million.
In Dunville, an area surrounded by low-lying hills, 90 millimetres of rain fell in a six-hour period sweeping away sections of roads and leaving huge boulders scattered in its wake.
Fred Hollett, provincial director of Fire and Emergency Services, said the total damage would be in the millions.
"By all accounts there are a significant number of personal property damage, homes damages, basements flooded. ... a couple hundred basements that will have to be pumped in Bay Roberts alone," Hollett said.
Bridges were out in many communities Wednesday and roads were washed away or flooded in others. Several towns were cut off by floodwaters and states of emergency were declared in Dunville and Placentia in the Placentia Bay region and in the Conception Bay area, Bryant's Cove, Cupids and Bay Roberts.
Hollett and Premier Danny Williams toured the storm-damaged areas by helicopter Wednesday. By mid-afternoon the water had mostly receded, but the town of Butlerville, in Conception Bay, was still flooded.
"We've seen significant damage around bridges, ditches washed out, roads undermined, a lot of roads washed out, that sort of thing," Hollett said.
Williams said the province would be ready with assistance.
"The government will be there, there's no doubt about that," he said on VOCM radio. "We want to make sure we can give whatever assistance to people and our full resources are certainly on call and out there now."
Red Cross officials were also standing by to provide disaster relief, but had not been contacted by late Wednesday afternoon.
The heaviest rainfall was reported at Whitbourne on the Trans-Canada Highway, about 90 kilometres west of St. John's, where the road was closed for hours after 150 millimetres fell.
Dave Oldford, who is summering in Brigus in the Conception Bay area, awoke Wednesday morning to more than half a metre of water covering most of the town. Oldford's two-year-old house was damaged and he says he watched one man use an ice cream container to bail out his car.
He said in many houses the water rose higher than the basements and was seeping into the main floors.
"I think in the history there has been (flooding), but I don't think anyone has seen anything as bad as this," he added.
In Conception Bay, one town official said the roads looked like rivers. A 20-metre washout made the road impassable to Ship Harbour, in Conception Bay.
At Long Harbour, in Placentia Bay, the main road was also washed out, preventing people from getting in or leaving. Boats were being used to ferry some people around. Volunteer firefighters in Placentia commandeered one boat to free a man trapped in a car and get him to hospital.
St. John's was hit with 90 millimetres of rain that flooded city streets and blew open manhole covers. The storm forced the cancellation of the annual Royal St. John's Regatta, one of the oldest continuous sporting events in North America, which features dozens of rowers and draws tens of thousands of spectators to Quidi Vidi Lake in the heart of the city.
The storm ended Wednesday afternoon when Chantal moved out to sea.