One hundred and five people have been hospitalized already with the suspected diagnosis of pneumonia in the city of Verkhnaya Pyshma in the Sverdlovsk region.
An official of the regional Health Ministry told ITAR-TASS on Monday that the diagnosis of pneumonia had been confirmed in 96 people.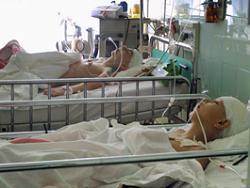 ©Unknown
Six patients are staying in an intensive care unit.
All are local residents.
Their age ranges from 18 to 81 years.
Most of the patients showed improvement during therapy, the official said.
Laboratory tests revealed a causative microorganism called Legionella.
Legionella pneumonia was first registered in the US 30 years ago.
Pulmologists, resuscitators, radiographers, bacteriologists and nurse personnel from several regional medical centers were sent to Verkhnaya Pyshma.
A group of specialists from federal research institutes are working in the city hospital.
Patients are receiving antibiotics.
The pneumonia outbreak was registered in Verkhnaya Pyshma on July 25.
Three people died.
Specialists presume that infection spread through the water supply system after pressure tests of it.
They said this infection is not transmitted from man to man. Legionella bacterium dies during water boiling.
"Most likely, the patients used the not boiled water," the regional Health Ministry's official said.
The prosecutor's office of the Urals Federal District took the investigation of the pneumonia outbreak under special control.